14 Jul

The week ahead: July 13th through July 19th:
•
It looks like we have a full moon in Cancer coming up this week on the 15th. This may be a very intense, emotional week for many. Do yourself a favor and don't blow a gasket if someone makes an off handed remark or acts in a selfish/stupid manner. Take a deep breath, hold back the tears, and try to see what's happening from another perspective so you can fully understand what's going on. Want a way to avoid the insanity? Focus your attention on and demonstrate what your heart's really into. Not only will it take you away from the heaviness of the week, but it will keep you immersed where you really belong. You can also go after what refreshes you (water maybe?) and keeps you feeling loved and supported (what did your mom used to do for you when you were sick or sad?). Exercise will also help burn off any extra crazy, so make a plan now for what you'll do when you need to get away this week. Be positive, be proactive, and come from your heart center (love) and you'll rise above all the mayhem <3
Go ahead and pick a card from above (you can pick one, two or all three). The stone you see in the picture above is amethyst. I suggest keeping a piece of amethyst on you this week (bigger than a quarter in size) to help keep you calm and focused. Amethyst's ability to expand the higher mind also enhances one's creativity and passion. It strengthens the imagination and intuition, and refines the thinking processes. It helps in the assimilation of new ideas, putting thought into action, and brings projects to fruition. It is a talisman of focus and success. If you'd like to know more, please go here.
•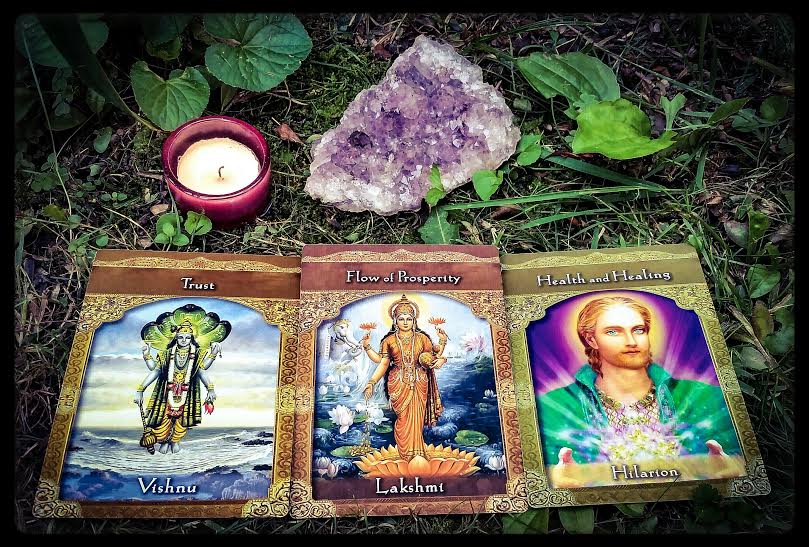 •
If you chose card #1: Your message this week is about trust. Your card goes on to say that you can trust the situation you're inquiring about. The solid foundation of your situation gives it a trustworthy basis. Keep purifying your motivations so that they are completely about love and service to elevate the energy and experiences even further. Additional Meanings: The person you're inquiring about is trustworthy • Trust that your prayers are being answered, even if you don't yet have evidence • You're on the right path • Trust your gut feelings and intuition.
•
If you chose card #2: Your message this week is about flow of prosperity. Your card goes on to say that this card indicates that your prayers about finances have been heard and answered. Tap into your manifestation power by focusing on abundance instead of worrying about money. You have nothing to fear. A new flow of prosperity is supporting you and your loved ones. Additional Meanings: Stop worrying about money; worries only attract money problems • Everything's going to be okay, especially with respect to finances • You have the support to make a desired life change right now • Visualize and affirm prosperity.
•
If you chose card #3: Your message this week is about health and healing. Your card goes on to say that this card is a sign of healing. Your divine healing power has awakened and you feel compelled to help others to heal. Just as you've been healed, so to do you want others to enjoy health and vitality. You're supported in making life changes so that you can continue to heal yourself and others. Let go of any fears or restrictive thinking to fully open the miracles of healing. Additional Meanings: An illness or injury is healed or healing • You are a healer • It is a good and safe time for you to change to a healing career • Study healing modalities.
•
My hope for you this week is that you can rise above all of the noise and focus on what's important to you. I hope that you can have compassion for others that aren't handling this time well too. It's easy to judge others and come from a place of superiority when we feel like we have a leg up or all the answers. Let that old stuff (and way of being) go. Be there when someone important (or a pure stranger) needs you, and be a good listener. That may be all that they need, and honestly, being the supportive one might fulfill a deep need for you too <3
This is your week! Make it an amazing one <3