29 Sep

The week ahead: September 29th through October 5th:
•
 How have you been feeling after the new moon lovelies? I found this one to be much nicer and gentler than the ones we've been experiencing. Balance was a major theme last week and it seems this theme was delivered to me in the actual physical sense. I've been having a hard time getting grounded; I've felt so loopy and I'm having a hard time concentrating and remembering anything. So, I've been making a concerted effort to get outside and reconnect with nature in an attempt to reconnect with myself. Sometimes we just need to feel the grass under our feet and some fresh air to feel like we have a tether to this Earth and our purpose. I also found something incredibly important as well–I found if I'm to go anywhere and do anything important in this life, I HAVE to love myself first. Maybe it's not the craziest ah-ha moment, but it was a big one for me. I don't know if anything I've ever done has been this important and felt so large a task. This new moon highlighted for me that I look too much to others for love and acceptance, and now it's time for me to look within for this support. I know I have a lot of work ahead of me, but I think I can finally say I'm ready to look to myself for what I need. New beginnings can be overwhelming and If you find yourself in the midst of a new beginning, remember to take it one day at a time. Be gentle with yourself and with what you uncover and LOVE who you are, shadow side and all.
Go ahead and pick a card from the picture above. The cards are numbered from left to right; 1, 2, 3. The beautiful stone in the picture is spectrolite. A stone of transformation, Labradorite (also known as Spectrolite) is a useful companion through change, imparting strength and perseverance. It balances and protects the aura, raises consciousness and grounds spiritual energies. Excellent for strengthening intuition-promoting psychic abilities. Powerful in revealing the truth behind illusions, Labradorite (Spectrolite) banishes fears and insecurities, and strengthens faith in the self and trust in the Universe.  It stimulates the imagination and calms an overactive mind, developing enthusiasm and new ideas.
•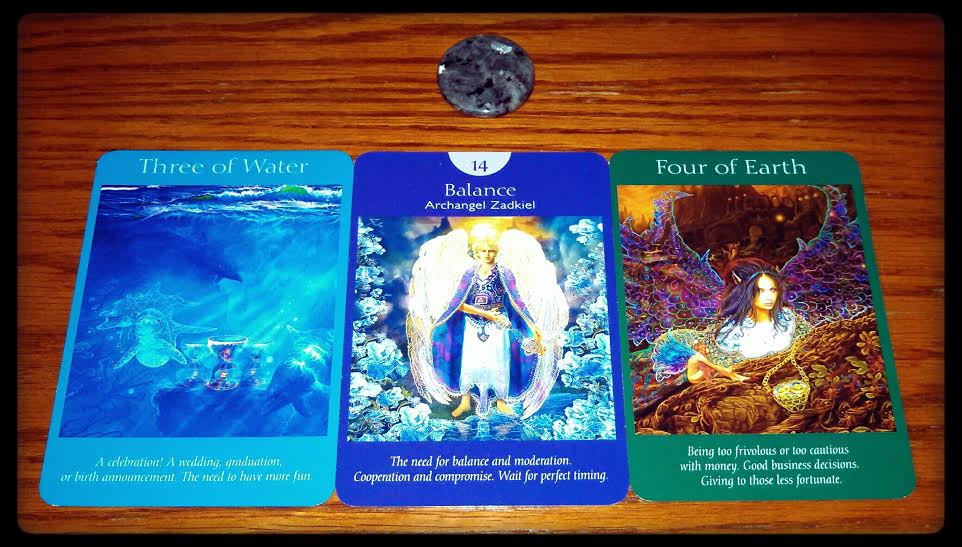 •
If you chose card #1: Your message this week is about a celebration! A wedding, graduation, or birth announcement. The need to have more fun. Your card goes on to say that it's time for a celebration! Weddings, announcements of pregnancy or birth, and reunions are likely. Graduations or promotions are on the horizon. You need to have more fun! You're working too hard and must learn to relax. Throw a party or take a vacation. Additional Meanings: Community • Hospitality • Entertainment • Good fortune • Happy conclusions.
•
If you chose cared #2: Your message this week is the need for balance and moderation. Cooperation and comprise. Wait for perfect timing. Your card goes on to say that the angels are cautioning against making impulsive decisions or moves right now. Instead, take the path of moderation and balance in this situation. You'll experience better results by reevaluating your current circumstances and changing your approach. If you acted impulsively in the past, you can heal and rectify things. And if you're considering making dramatic life changes, then this card asks you to approach those changes slowly and methodically. This card encourages you to work cooperatively with others, and to see things from their point of view. Compassion and kindness are keys to successfully manifesting your dreams. Forgiveness also brings healing, which allows for new beginnings. Additional Meanings: Keeping a moderate pace • Cooperation and blended ideas • Self-restraint • Finding the balance between action and contemplation • Waiting for better timing.
•
If you chose card #3: Your message this week is that you're being too frivolous or too cautious with money. Good business decisions. Giving to those less fortunate. Your card goes on to say that this can be a card of extremes. It may be a cautionary message to take care of your resources. Perhaps it's time to create a savings account, or review your spending habits. It's also possible that you're too financially conservative. Additionally, this is a message to donate time or money to charities and worthy causes. Your hard work is paying off, but stay alert to new possibilities. Change is inevitable and can bring new found sources of abundance. Be open to new and exciting opportunities. Don't let fear-based thoughts limit your actions. Additional Meanings: Good business decisions or investments • Large purchases • Penny-pinching • Fears that what you've accumulated will be lost.
•
My hope for you this week is that you're empowered in the presence of whatever you're confronting, or is confronting you. I hope that you can go within and find the inner strength you didn't think you had to accomplish what is being asked. Remember that you're not alone on this journey, and that many others are awaiting your signal to step in and help. Be gentle, be kind, and most importantly, be compassionate.
This is your week! Make in an amazing one 🙂