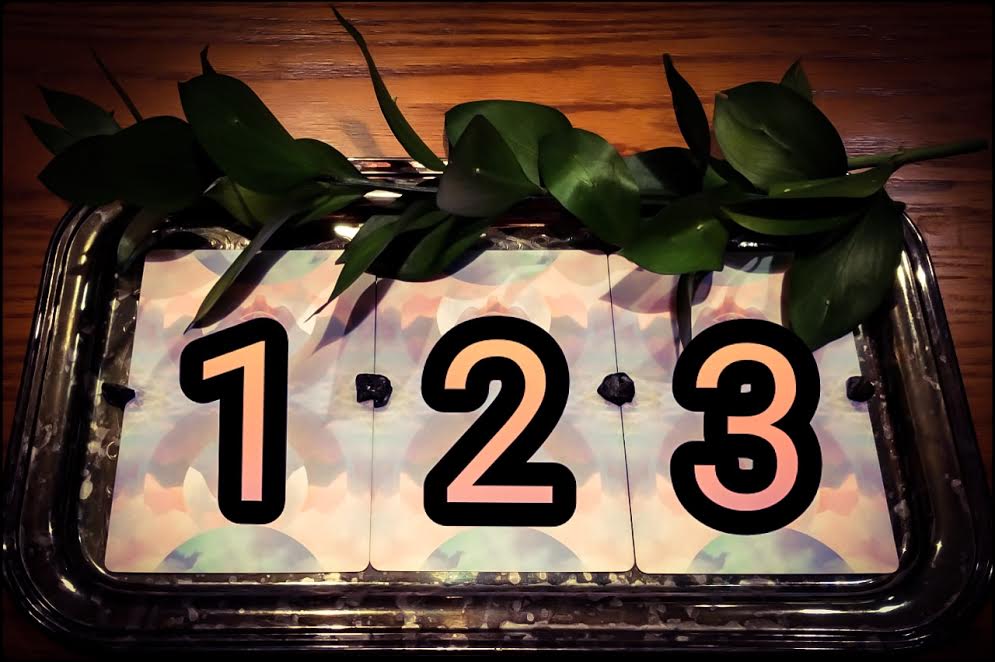 02 Jan

The week ahead: January 2nd through January 8th: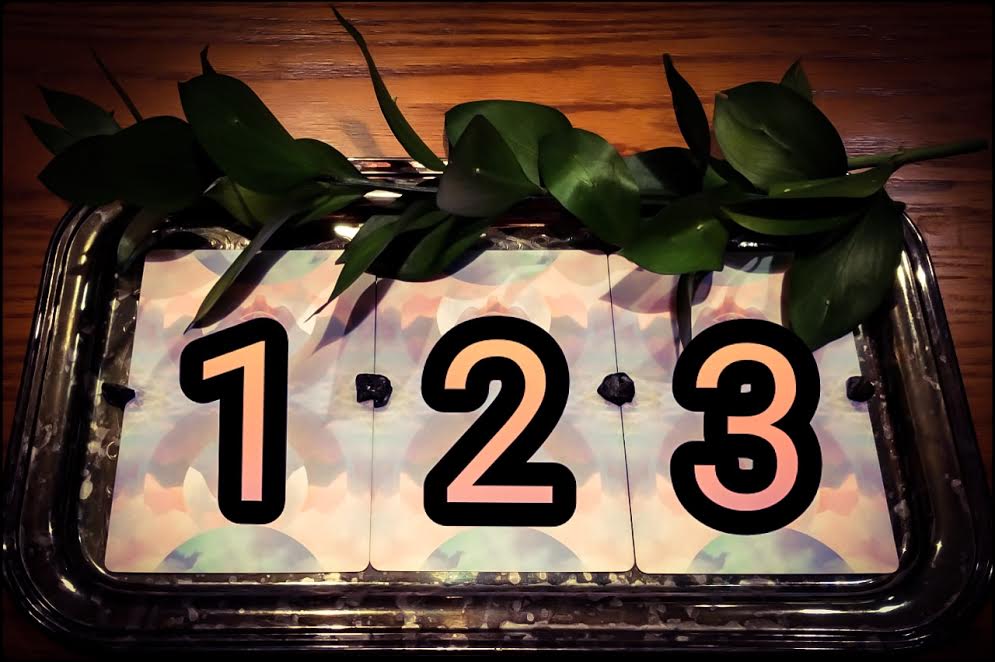 •
Happy New Year, Lovelies!! Now is the perfect time to start planning for your year ahead–with us still being in Capricorn season (and mercury retrograde is in Capricorn until the 4th too, moving into Sagittarius until retrograde ends on the 8th) for 2 more weeks, you have a beautiful window of opportunity here to write, rewrite, and revise your strategy going forward so you can truly refine what your goals are for the year ahead.
Capricorns are grounded planners, and methodical ones at that. Remember how I said last week that some of those things coming up for you might have a tie to cycles bigger than you? Look again this week to see where you might be carrying a story that doesn't necessarily belong to you (think family, culture, or country) and see how you can make a plan or strategy to either face or stop unconscious habits you're allowing to continue.
So how can we use the energy of this week to help us? My advice is this: How can you make sure that the information you've gathered so far to create your strategy or break your cycle is true and factual, and not just info that supports your opinions? How can you prepare your plan for action or your cycle for breaking once the 8th has passed? So my personal cycle I overcame starts back in 2011 after my neck surgery. I come from a family were both sides have alcoholism issues. The year prior to my neck surgery, my doctor put me on Vicodin to help with the severe pain I was in and this prescription lasted for another year after surgery. The pain just continued and so did the upage in dosage of Vicodin I was taking. At one point, I was on the 2nd largest dose at 6 times a day. Somehow, I was still functioning, but barely. I was always ashamed by the stories of the alcoholics in my family and promised myself I'd never become one, only to realize a year after my surgery that I was very much addicted to my prescription, and my husband had to sit me down to tell me that he didn't recognize who I was anymore (my depression had gotten so bad I was basically a shut in) and that something needed to change. To be honest, I never thought I had a problem while it was going on. My internal story I kept telling myself was that I wasn't an alcoholic, so I'm doing ok, and I was in pain and my doctor prescribed it, so it must be alright. Nothing could have been further from the truth and it wasn't until my husband staged that intervention with me that I HAD to sit down and really face myself. Isn't that the deal with all addiction though? You're trying to avoid the pain of what's going on inside, so you use something to help distract you instead of just facing the issue and working through it. Just because mine was prescribed by a doctor doesn't mean I wasn't just as addicted and just as reliant as any alcoholic would be to booze. I had a choice then to either continue on the path I was on and slowly die inside or to get off the pills, make sure I was really still in pain, and try to piece my life back together. I give huge credit and supreme love to my husband for having the balls to say something to me, and to myself for making the choice to end that shit-tastic cycle. Turns out I'm still very much in physical pain (meditation and exercise actually help to relieve some of it), but I'll be damned if working through the emotional pain I was in didn't make me stronger in multiple ways, more resilient, and helped me to have the strength to be honest and open about my mediumship which I was desperately trying to hide from at the time. Most importantly, I proved to myself that I could see through honest eyes how I was carrying that family addiction cycle that was passed down to me, and that I was strong enough to break it and start a new cycle where I face my emotions and I manage my physical pain in healthy ways. And let me be clear that I don't judge anyone who's on prescription pills; who the hell am I? Just because it didn't work for me, doesn't mean it won't work for someone else. Anyways, that choice led me here to you, and I wouldn't change that for the world <3 This week, break the cycles that chain you. A personal intervention might just help, too <3
Go ahead and pick a card from above (pick one, two, or all three cards–pick what you're drawn to). The small black stones you see in the picture above is black tourmaline. Ancient magicians relied upon Black Tourmaline, known as Schorl, to protect them from earth demons as they cast their spells. Today this stone is still revered as a premier talisman of protection, a psychic shield deflecting and dispelling negative energies, entities, or destructive forces. It guards against radiation and environmental pollutants, and is highly useful in purifying and neutralizing one's own negative thoughts and internal conflicts, and turning them into positive, usable energy. Black Tourmaline is also a powerful grounding stone, electrical in nature, providing a connection between Earth and the human spirit. Its supportive energy aligns the energy centers of the body and channels healing light throughout the system. It promotes a sense of power and self-confidence, allowing for a clearer, more objective view of the world. It is empowering to those who must live or work in challenging environments or when facing difficult circumstances. If you'd like to learn more about this stone, please go here. 
•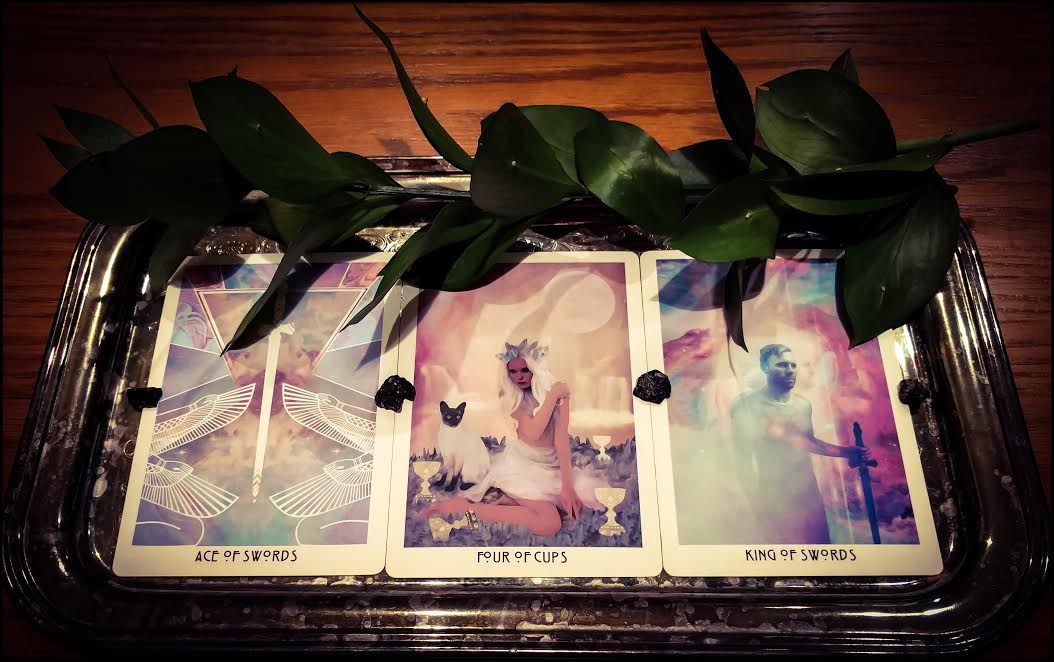 •
If you chose card #1: Your message this week is about the Ace of Swords. Your card goes on to say that the Ace of Swords indicates a heightened state of spiritual and mental clarity. It is the emergence of great determination and power in order to reach your goal successfully. It marks the beginning stage, new project, plan, or vision. Very often this also connects with a new shift in consciousness, as you are able to move ahead with wisdom and truth. Now is the time to seize any opportunities or ideas that surface, in order to create new positive changes in your life. A time to stand out on your own, against all odds. Additional Meanings: Beginning • Prosperity • Joy • Victory • Determination • Power.
•
If you chose card #2: Your message this week is about the Four of Cups. Your card goes on to say that it could be that you're missing out on an opportunity if you're being distracted by external forces. It is a sense of restlessness and boredom which has you feeling stuck in a rut. Are there issues from your past that are weighing on your present situation? If you are fearful or indifferent about making a change, you may continue to dwell in a state of denial. Perhaps you're not seeing what is right there in front of you. You have a system of love and support in your life–how can you connect with this? Is there anything you're taking for granted? Take a moment to meditate on the aspects of your life that you are truly grateful for. See the positive highlights, rather than focusing on the negativity. Additional Meanings: Disappointment • Apathy • Boredom • Letting your imagination get the best of you.
•
If you chose card #3: Your message this week is about the King of Swords. Your card goes on to say that if this is about a situation: It is time to speak your truth with confidence and strength. The need to look at things objectively, with no limiting emotions. You are quick-witted and sharp in your convictions, standing up against all odds. Do not worry yourself with the opinions of others. You already know you have what it takes. If this is about a person: The King of Swords is an intelligent, decisive individual who handles their life with an objective, logical approach. A firm, yet fair person who is capable of highly complex thoughts and ideas. They are inventive, articulate, and very communicative. The King of Swords does not give in to impulse or emotional distraction, and is always driven by rationality and truth. Additional Meanings: Authoritative • Logical • Rational • Ambitious • Assertive.
•
My hope for you this week is that you are brave enough and ready to face your own story and cycles, see the connections, and are able to stop them and start new ones that reflect who and what YOU are about. I believe in you and your happiness <3
This is your week! Make it an amazing one 🙂