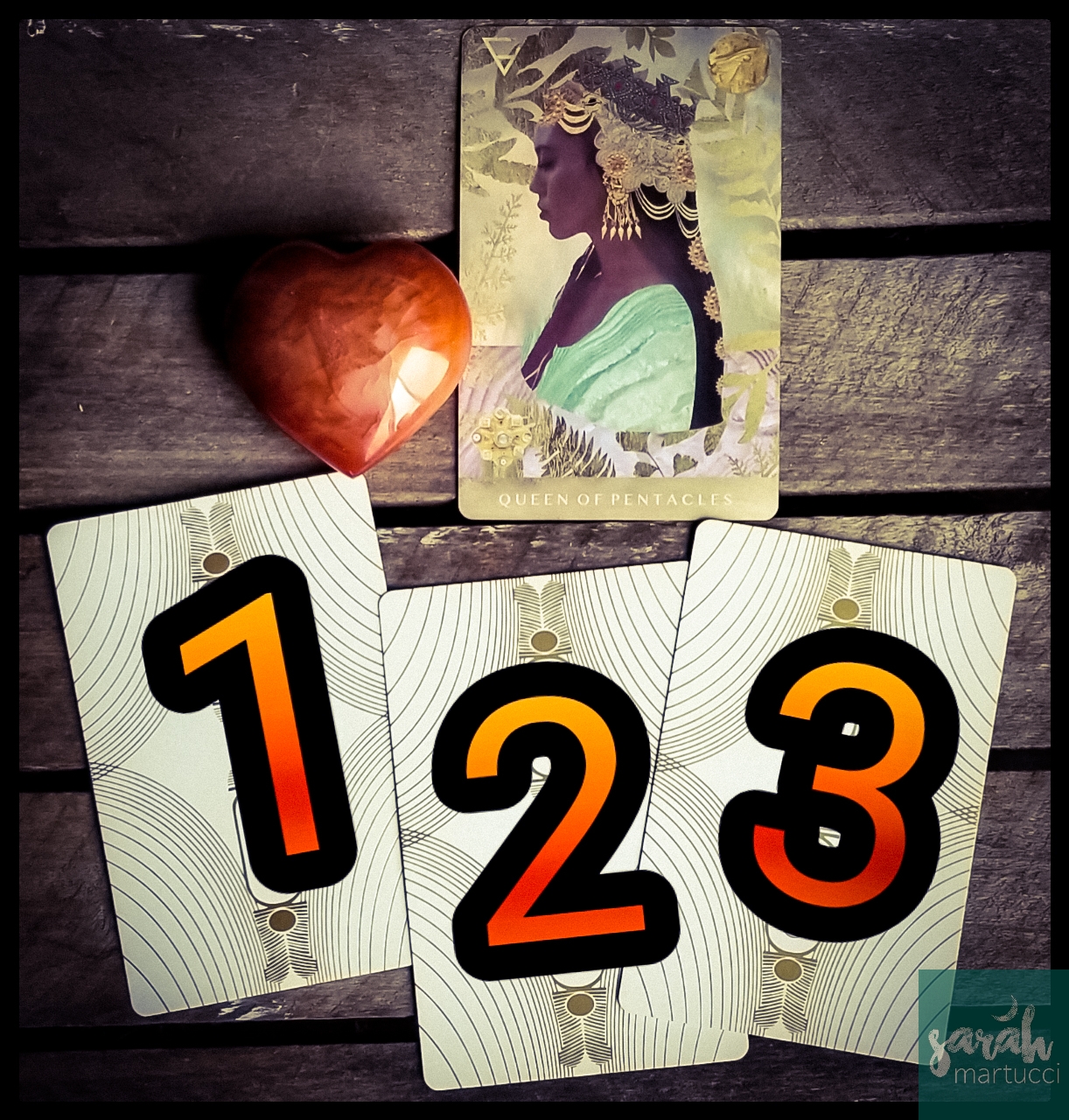 31 Mar

The week ahead: March 30th through April 5th of 2020: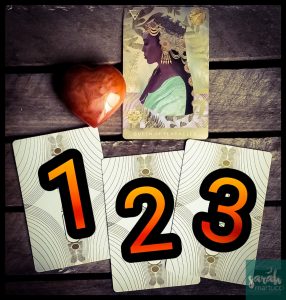 •
Fear is a visceral word. Most people know what fear feels like and most people do their very best to avoid invoking the name so helplessness doesn't set in. But we're in the midst of a pandemic and both fear and helplessness are prevalent right now, especially if you're wondering where your next paycheck or meal is coming from, you're immune compromised, or you have a loved one you can't reach.
So if you've been having this heavy feeling on your chest lately, all you've wanted to do is sleep, you can't stop eating all your quarantine food, and you don't feel motivated in the least, just know that you aren't alone and that what you're experiencing is grief.
For me, it comes in waves. There has been so much loss since covid-19 starting spreading, that it just overwhelms your system and all you want to do is shut down. Unfortunately for our self care, most of us are telecommuting for work, or still going into work, have kids, teach, are essential workers, or are required in some sense to show up and be fully present despite the feelings of burnout. It feels like a no-win situation. To compound the issues, those in charge can't seem to find a way to help us so that the support being given actually protects us, provides real relief, and even covers the severe structural issues we need to face on every level.
No wonder we're all tuning out.
Aries season may offer us some advice that can help us through, despite what we're facing. Aries go where angels fear to tread, so pulling on our courage will help us to at least face these obstacles with heart. Courage literally means strength in the face of pain or grief, and I've found that my strength stems from the love I have for my closest people, so look to see where you draw yours. Aries can be known for being selfish, but honestly, we're just really good about setting boundaries that are in our best interest. So set strong boundaries around "you" time, and keep it sacred. If you want to give more to the people you love, you can't do that from an empty tank. Also, Aries can almost always be found looking out for the underdog or less fortunate, so if you think your grief is coming from feeling helpless, stand up for someone who needs it. We have a government that needs rebuilt so that it protects everyone, not just the super rich, male, and white, so look for causes that support POC, immigrants, the LGBTQ community, the disabled, our Indigenous People community, the elderly, the homeless, animals, or anyone that's high risk of being devastated by the aftermath of the virus 💖
So how can we work with the energy of this week? My advice is this: I've been drawn to the elderly, looking for something I can do. I heard from a good friend of mine that her local nursing home has many residents who don't understand what's going on, so they've been crying, confused and lonely. My heart broke at hearing this, but she let me know her and her son made cards for everyone in there, including words of support and reminders that the residents are loved. I suggest we all do something similar this week. Pick any cause and do what you can to help. Or just reach out to someone you know isn't doing well. You don't have to spend money to help; sometimes your words, presence (over the phone or zoom), kindness, or support is all that's needed. How can you show up?
Go ahead and pick a card from above (pick one, two, or all three cards–choose what you're drawn to). The top card is the overarching theme for everyone and it's something to keep in mind or to remember, no matter what energy shows up for you as the week goes on. The stone you see in the picture above is carnelian. Orange stones, especially the carnelians, are excellent aids for training, coordination of physical exercise programs, and for balancing body energy levels. Carnelians boost a listless attitude and can stimulate the appetite. Used as a professional support crystal, Carnelian aids architects, builders and construction workers in their creation of master buildings, stimulates power and stamina in athletes and military personnel, establishes form and organization in journalists, and stimulates motivation in salespersons. Carnelian is said to attract prosperity, new resources and good luck. It is a talisman for success in any money-making venture. In the workplace, it is a crystal of ambition, drive and determination, and wards off undue pressures of co-workers or impersonal corporations with unrealistic expectations. Carnelian clarifies the voice. It is the Singer's Stone. It also promotes confidence for performances on stage or in live media. Carnelian is traditionally known to guard against falling masonry and accidents with tools. Today it guards the home from theft, fire, storm or accident.  Carnelian lends the courage needed to help overcome difficulties and defend a cause. It promotes idealism, a sense of community and pragmatism. Orange and red Carnelian are important crystals to use for love, and for the consummation of love. Orange crystals, in particular, are fertility and potency symbols and are linked with conceiving a child. Carnelian of either color may help in rekindling passions that might have faded in an otherwise loving relationship. If you'd  like to learn more about this stone, please go here. 
•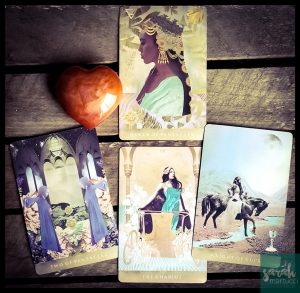 •
Overarching theme: Queen of Pentacles: The Queen of Pentacles is a down-to-earth, nurturing individual who works hard at what they do. You will often find them balancing multiple commitments and responsibilities, while also extending care to friends and family. There's a deep wisdom that surges through the heart and soul of this person, as they learn to prioritize what is truly meaningful in life – that stability of the spirit is what matters most, through foundational support that provide security and comfort. The Queen of Pentacles may very well reflect the attainment of success and financial goals, but in a heartfelt way that bridges beyond physical affluence. This key prompts us to consider how we can reach a higher state of awareness when it comes to building our vision of what successful comfort genuinely mean to us. How can we tap into our own strength, and design the life we've always dreamed of? Questions to ask yourself this week: How can I nurture my talents and skills? How can I maintain a greater sense of balance? Your mantra this week: My success supports my heart. I seek true riches at the soul. Additional Meanings: Nurturing • Cautious • Fertility • Earth Mother • Pragmatic.
•
If you chose card #1: Your message this week is about the Two of Pentacles. Your card goes on to say that as a card of momentum and change, the Two of Pentacles often highlights those moments in life that require a bit of juggling and adaptability. When tasks, responsibilities, obligations, scheduling and everything between tend to pull us in a million different directions, this key prompts us to consider how we can find a happy balance between these active forces. This card may also point to future goals that are rising within you, marking a transition of creative invention into pure manifestation. For all that you have accomplished, you should continue to move forward and be proud of your success, but not forget to acknowledge the other important, meaningful aspects of your life that also nourish your soul. What drives you to rise? Questions to ask yourself right now: How can I maintain a sense of balance in my life? What do I envision at the finish line? Your mantra: I balance my life from within. I treasure the moments of love and play. Additional Meanings: Progress • Balance • Transition • Adaptability • Goals.
•
If you chose card #2: Your message this week is about The Chariot. Your card goes on to say that The Chariot invites us on a powerful journey, offering us new reins to steer towards our future. This course can be filled with endless possibilities – uncharted paths, potential gains, and shiny opportunities along the way – but at the heart of this card, we are asked to discern the values by which we navigate the world. Are we driven by our notions of success, or are we exploring the depths of what really makes us happy and fulfilled? When you connect back to what your soul truly wants, the momentum of your success may open new doorways, allowing you to forge ahead with confidence and purpose. This clarity is a sweet gift that many of us forget to relish and nurture. When it shows up in the shimmering bursts of motivation, don't forget to soak them in and follow their lead. Questions to ask yourself right now: What am I truly working towards? How can I mobilize my efforts, to follow my bliss? Additional Meanings: Victory • Willpower • Movement • Confidence • Transition.
•
If you chose card #3: Your message this week is about the Knight of Cups. Your card goes on to say that the Knight of Cups is one of the dreamiest cards of the Tarot, embodying an aptitude for adventure and romance that flows directly from their heart. This person will always go above and beyond when it comes to fulfilling their loved one's needs. They can, however, become a bit obsessive or overly sensitive, in placing too much thought or worry into the words for emotions of other people. Despite their sensitivity, they are extremely passionate, generous, and will always make decisions based on the whispers of their soul, whether their choices seem logical or not. Expect lots of passion, play, and adventure with this type. This key encourages us to trust the sensitive waters of our emotions, and the intuitive wisdom that strengthens and nurtures our biggest and brightest dreams. Questions to ask yourself right now: How can I translate my dreams into truth? How can I explore my own passions and interests? Your mantra: I create and design from the depths of my soul. I dive with in with my passionate heart. Additional Meanings: Artistic • Adventure • Enthusiasm • Positive news.
•
This is your week! Make it an amazing one 😊