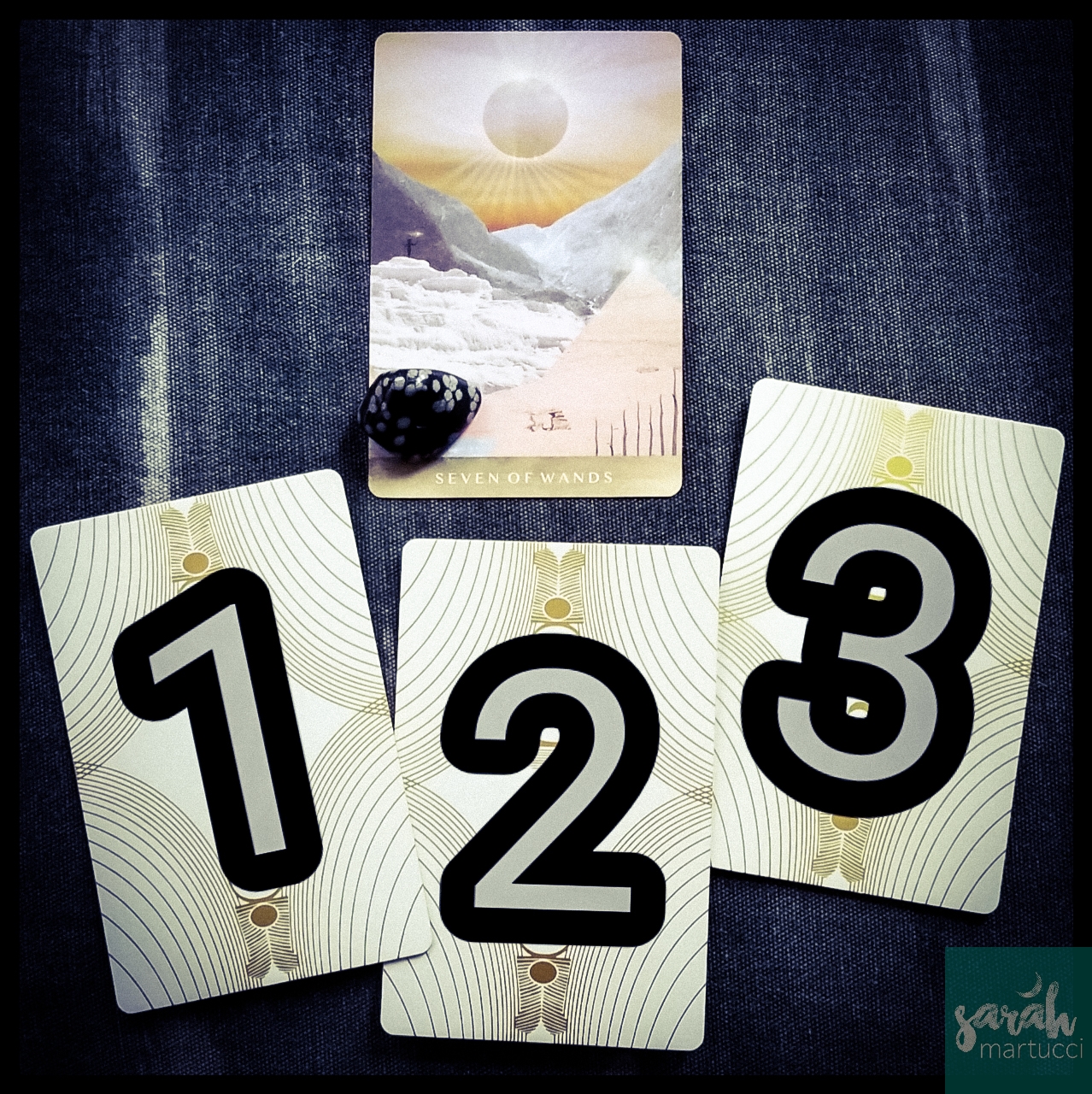 24 Sep

The week ahead: September 23rd through September 29th of 2019: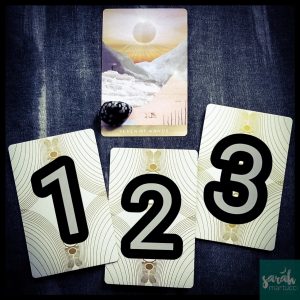 •
Happy Fall Equinox in the Northern Hemisphere, official start to Libra season, and New Moon in Libra coming up on the 28th, Lovelies! It's a week of transitions as we move from summer into fall and Virgo season into Libra. These changes are big, both seasonally and personally, so being adaptable will help you more than anything right now.
Well, being adaptable and finding the balance, which Libra is known for. This sign is ruled by Venus and focuses most of it's attention on it's relationships, more specifically, it's one-on-one's. The symbol for Libra is the scales, so again balance is a major theme, but so is justice and fairness. You might find yourself this week focusing on your most important relationships, reviewing whether these themes are currently healthy and good, or not working at all.
This new moon looks to be doubling down on that check list, so just make sure you face what's going on with your partner if anything is off. Maybe it's time for a date night or maybe you guys need to change things up–the same old same old isn't working anymore, so consider how you can work in more time for your significant other, while still being fair with your time and energy for yourself. New moons herald a time to plant new seeds or make a fresh start, so consider on the 28th visualizing what those new changes look like, creating a dream board, or performing a ritual that allows you to embrace the newness you're trying to usher in.
So how can we work with the energy this week? My advice is this: How can you find the balance within your relationships without giving up your sense of self? If you're feeling bored and restless, how can you change up the status quo without starting over from scratch? What declutter, detox, or healing work needs wrapped up right now? This week, be adaptable so that no matter what's thrown at you, you can find the balance <3
Go ahead and pick a card from above (pick one, two, or all three cards–choose what you're drawn to). The top card is the overarching theme for everyone. The stone you see in the picture above is snowflake obsidian. Snowflake Obsidian is a "stone of purity," bringing truth and balance to the mind, body, and spirit, and is especially empowering for accepting change and transformation in one's life. It calms and soothes the system, and helps one be more receptive to recognizing unnecessary patterns of negativity, self-defeat, "poor me" victimization, or unyielding emotional stress. Snowflake Obsidian allows one to see through the darkness of adversity and to realign with the light, perceiving sources of support that may have been overlooked or taken for granted, and to find the strength and willingness to shift one's reality for the better. It inspires new ideas to improve one's condition, and opens new pathways of spiritual thought and connection. It increases one's psychic sensitivity for recognizing meaningful synchronicities pointing the way to one's higher path. Snowflake Obsidian is not ideal for gazing, but is superb for stimulating total surrender during the meditative state, and can assist one in connecting with the world of souls to communicate with lost loved ones. It is excellent for overcoming feelings of loneliness and isolation, and its presence in the workplace provides an ongoing cleanser for stagnation, lack of enthusiasm and undercurrents of tension. Snowflake Obsidian is an excellent tool for attuning to animal totems and animal allies, and for becoming more sensitive to the subtle flow and movement of energy in the environment. Snowflake Obsidian enhances blood flow and may be used in conjunction with treatments for veins and the skeletal structure, and to ease problems associated with the menstrual cycle and the balancing of hormones. As an elixir (use the indirect method), it may be used to smooth the skin and clear the eyes. If you'd like to learn more about this stone, please go here. 
•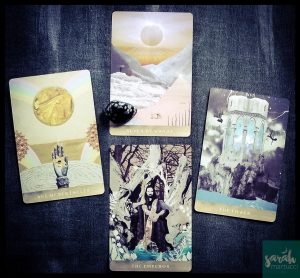 •
Overarching theme: Seven of Wands: The Seven of Wands moves into the momentum of your power once you have reached a consistent plateau of success. This is a positive place to work from and comes with many blessings and gifts, but once you are comfortable here, how are the energies around you going to stir and adapt? It could be that you will receive backlash or competition from others, as your accomplishments have attracted attention, and people will want what you have. As with any ripple effect you create in this world, there may be both positive and negative reactions–as the universe will always express its own balance and symmetry. Do not lose hope or confidence now. You need not worry about the views of other people. Stay strong. Stay true, and remember how you got here. This experience will only make you more resilient in the end. Questions to ask yourself right now: How can I hold my strength and composure? What have I learned, after all of my highs and lows? Personal mantra for the week: I rise to a higher state of enlightenment. I stand strong and root my energies. Additional Meanings: Competition • Gain • Success • Strength • Defiance.
•
If you chose card #1: Your message this week is the Ace of Pentacles. Your card goes on to say that the Ace of Pentacles highlights new, prosperous beginnings that have the potential to grow into long-term success. The energy of this card speaks of planning and strategizing–laying out the foundation for the foreseeable future, knowing that the outcome will be fruitful and positive. From this state of understanding comes the ability to identify opportunities as they arise, and the paths that align best with your heart. This card speaks of the innate trust, intuition and choices that support inner growth beyond mere affluence. You understand and prioritize what is truly important, and are able to rally all of the resources you need along the way. Remember, the power of positive visualization combined with a sense of gratitude will only attract more abundance into your life. Questions to ask yourself right now: How can I align with my creativity to support my life? What are my true notions of success? Your personal mantra for the week: I seek the abundance that nourishes my heart. I celebrate the gifts that life has to offer. Additional Meanings: Prosperity • Abundance • Rewards • Stability • Health.
•
If you chose card #2: Your message this week is about The Emperor. Your card goes on to say that the Emperor embodies a deep inner-fortitude that reflects a personal code of conduct and strength. However, his greatest power emerges and transmutes through the joining of his heart and intellect. This is a creative energy that helps us each nurture and sustain more balance in our life–one that sees the brilliant design of interconnection, the importance of each stone in our greater foundation, and the merging of the spiritual and psychological realms. This gentle strength brings harmony and peace to where there is conflict and separation in our world, which defines true leadership and innovation. The Emperor encourages you to cultivate and build from the root of this power, galvanizing directly from the seeds of your heart. Questions to ask yourself right now: How can I reinforce more structure in my life? How can I step up and lead from my heart? Additional Meanings: Discipline • Balance • Divine masculine • Success.
•
If you chose card #3: Your message this week is about the Tower. Your card goes on to say that the Tower marks those unexpected devastations that corrode our Spirit or sense of security; when we feel crushed under the weight of circumstance, or experience a traumatic event that casts a shadow on our life. It can also point to situations in which the mind, body and spirit are not working in harmony do the passive or unhealthy choices. From the depths, this key may lead to a breakthrough in consciousness, allowing us to free ourselves from the unnecessary burdens or energies which no longer serve. What is the greater lesson to be learned? Know that for every difficult situation we face, we are forced to grow from experience. Liberation comes from letting go and rising up, and sometimes to do this, we have to hit a low point. Without the darkness, there is no light. Questions to ask yourself right now: How can this shadow be a catalyst for expansion? How have I transformed the toxicity in my life? Additional Meanings: Upheaval • Transformation • Abandonment • Liberation.
•
This is your week! Make it an amazing one 🙂