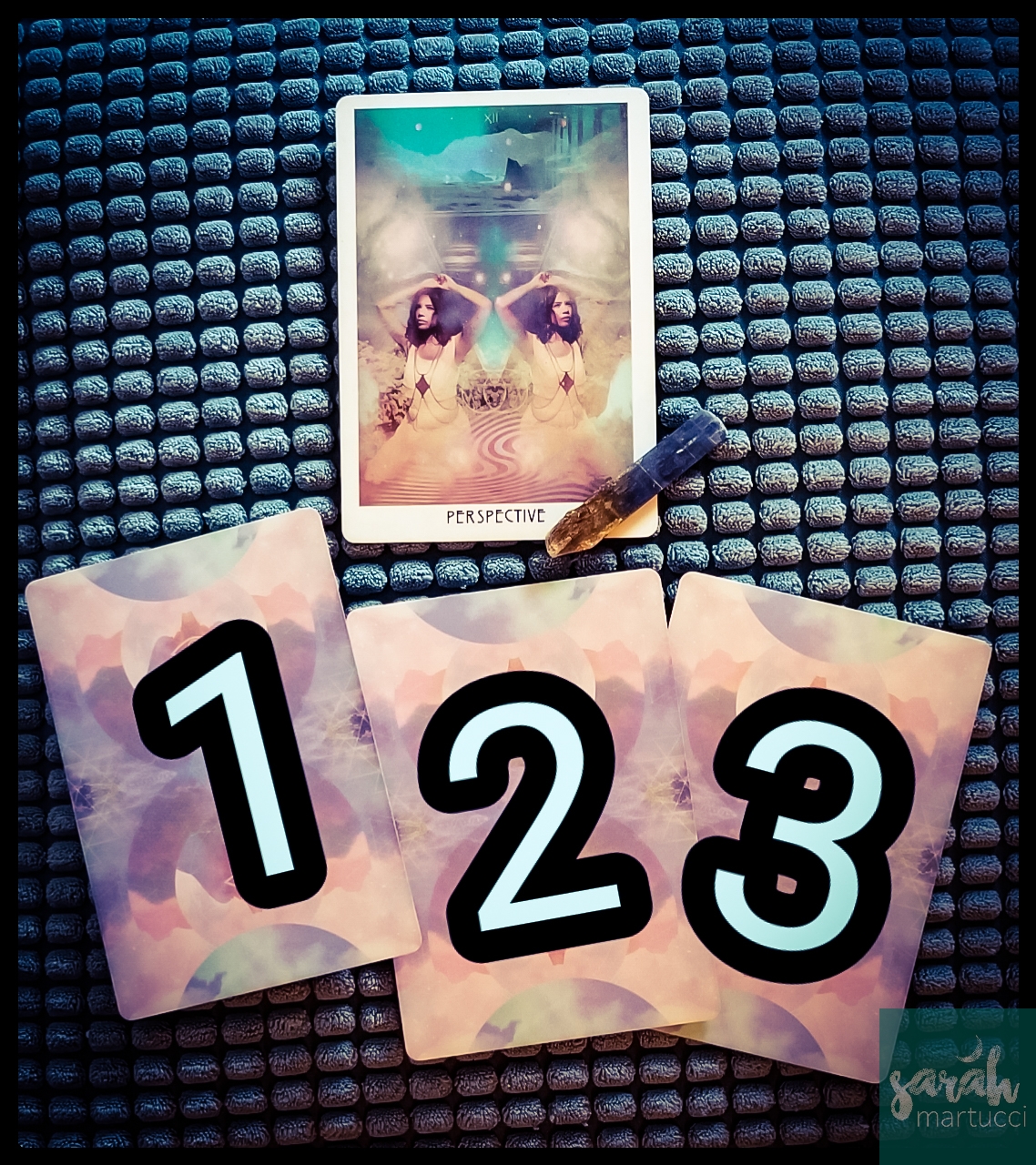 03 Sep

The week ahead: September 2nd through September 8th of 2019: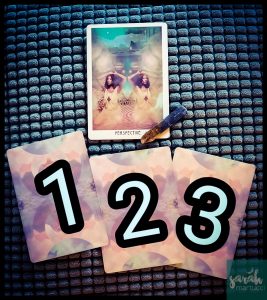 •
Perspectives will be on the table this week, as we can see that what we've been working on or towards could use a boost of optimism or expansion. Keeping it real and grounded is perfect for building foundations, but if you'd like your empire to touch the sky, some dreaming may be called for to balance out all the structures you've established.
And Virgo season is perfect for doing just that–well, structuring and grounding at least. Virgo is an earth sign and is so good at making sure we're crossing every t and dotting every i. She loves organization and a clutter free space so she has room to do what she does best; heal.  Although it may not seem that way now, everything you've been working on does have a healing bent, either in helping you to heal from the past and break ties that bind you, or by creating new opportunities that give a second chance to do things they way we know need to get done. It's never an easy task to do things step by step, but if you get lost in the big picture or in the dreaming part, small, incremental steps will help you reach your goals.
So maybe we focus now on how we can build off of everything we've done so far, giving ourselves a launching pad to reach our most exciting dreams, while taking any action we can everyday that reinforces those foundations. And don't forget about following your heart or where the healing is calling to you, too. This week feels like it has a bigness to it, asking us to build in every direction we allow ourselves, with the freedom and clarity to go bigger and better than ever before or to new expanses we didn't even know were possible till now.
So how can we use the energy of this week to help us? My advice is this: Where do you need to declutter, detox, or cleanse so you have more freedom to do what you're called to? What needs more attention right now–building foundations or dreaming big (or is there a way to do both)? Where can you use more optimism for a boost of morale? What is your healing calling you to do? This week, focus on your perspective and make sure you're planted firmly where you need to be so expansion can be supported. Whatever you choose, it's time to get to work.
Go ahead and pick a card from above (pick one, two, or all three cards–choose what you're drawn to). The top card is the overarching theme for everyone. The stone you see in the picture above is blue kyanite. Kyanite inspires loyalty and fair treatment to others. It assists in working through disagreements and disputes, and can aid in repairing damaged relationships. It is beneficial in negotiations, diplomatic missions, arbitration and other forms of communication between disharmonious people, allowing disparate energies to move into resonance and find a common frequency. In the workplace, Kyanite promotes good communication, bridging the gap between different beliefs and ideas, and encourages self-expression and speaking one's truth. Hold or wear Kyanite when addressing a group, or leading a seminar or team meeting. It sharpens communication skills, and is particularly helpful when answering questions or when there is a need to improvise. For those who have lost their way in life, or are trying to break a cycle of self-destructive behavior, use Kyanite in an empowerment grid to get back on track. Lay out rows of small Kyanite blades radiating from a central Kyanite in six different directions. Use each night to walk a different path in the mind, letting images and ideas take form spontaneously. Continue until you no longer need the grid. To access forgotten childhood memories or to recall a word or name that eludes you, touch the center of your brow with Kyanite. If you'd like to learn more about this stone, please go here!
•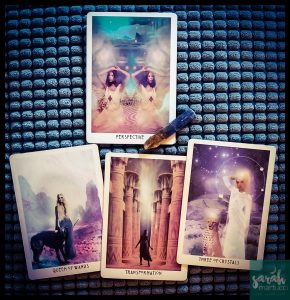 •
Overarching theme: Perspective: It may be a good time to pause, take a deep breath, and review your plans. If you feel stuck, do not make any hasty decisions just yet. Sometimes looking at things from another angle or perspective can shift the energy of a challenging situation. It may be that you will need to let go of something or make some kind of sacrifice, which may initially leave you feeling vulnerable or scared. Know that despite the hardships, a more positive outcome will eventually prevail; you just need some time to review your plans. This is a transitional phase when you're able to recalibrate your beliefs, situation, or life goals. Take this time to meditate on your personal hopes and dreams. When one door closes, another always opens. Questions to ask yourself right now: What are my options at this time? Where do my true passions lie, and how am I honoring them? Additional Meanings. At a crossroads • Letting go • Epiphanies • Patience • Surrender • Sacrifice • Introspection • Meditation.
•
If you chose card #1: Your message is about the Queen of Wands. Your card goes on to say that it is important that you acknowledge your limitless potential! You're capable of accomplishing anything you wish if you truly put your mind to the task. Maintaining a positive mindset attracts an abundance of light into your life–this is the first step in manifesting your dreams. Additional Meanings: Authoritative • Spiritual • Practical • Dependent • Charismatic.
•
If you chose card #2: Your message this week is about Transformation. Your card goes on to say that Transformation represents the entry point into a new state of understanding and enlightenment. You may feel as though something major is shifting in your life. This re-evaluation of old beliefs may force you to eliminate the distractions or difficulties you've been experiencing, enabling you to fully grasp your highest potential. Your true priorities have been exposed and revealed for what they really are, which puts everything else into perspective. How are you going to use your time and skills from now on? Are you ready to take the next evolutionary step in your own Ascension? Be open to new opportunities that present themselves, especially if they align with your heart. This is a period of positive change, even if it appears to be daunting or frightening at first. The cycles of your life will manifest various transformations that will always bring in new and exciting experiences. Sometimes it is important to do the things that scare us, in order to know what we are truly capable of. Questions to ask yourself right now: What do I need to release and let go of? What has been holding me back? What have I taken for granted? Am I ready to really be ME? Additional Meanings: Spiritual growth • Relationship shifts • Searching for deeper meaning • New beginnings • Cycles of change • Metamorphosis • Transition.
•
If you chose card #3: Your message this week is about the Three of Crystals. Your card goes on to say that the Three of Crystals is an indication that you have reached a state of accomplishment! You're radiating enthusiasm and vitality, and can look ahead with a clear vision of the future. With this, you have an understanding of the steps you will need to take in order to maintain your success. The Three of Crystals also signifies great skill, passion, and the manifestation of creative projects. It is also the acknowledgement and appreciation of teamwork, friendship, and collaboration. You are not someone who comes off as superior to others; rather, you appreciate the qualities that each individual has to offer. A great sense of wisdom, spiritual enlightenment, and modesty which comes through the embodiment of unconditional loving energy. Additional Meanings: Originality • Determination • Career • Artistry • Collaboration.
•
This is your week! Make it an amazing one 🙂