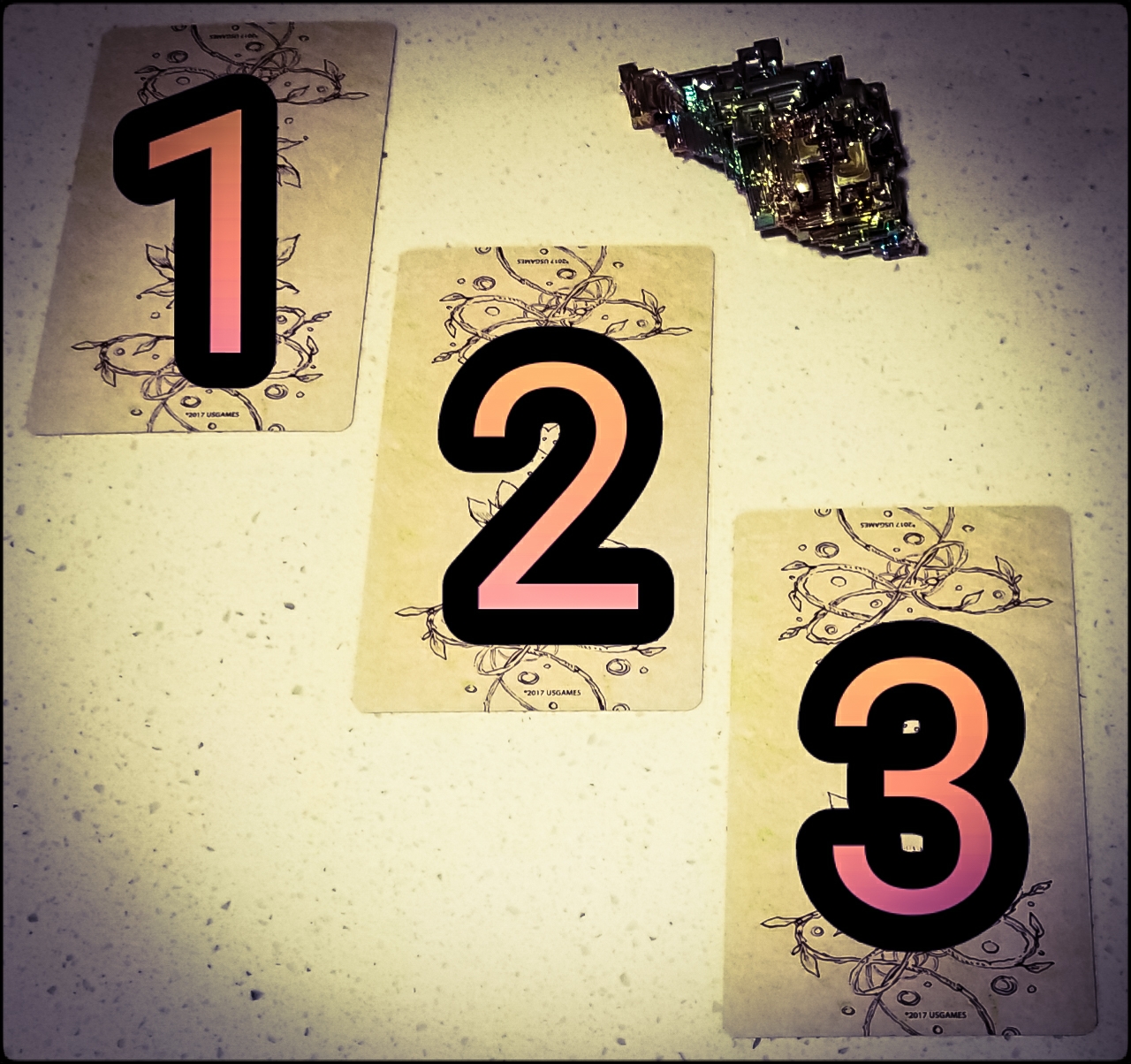 15 Jan

The week ahead January 15th through January 21st: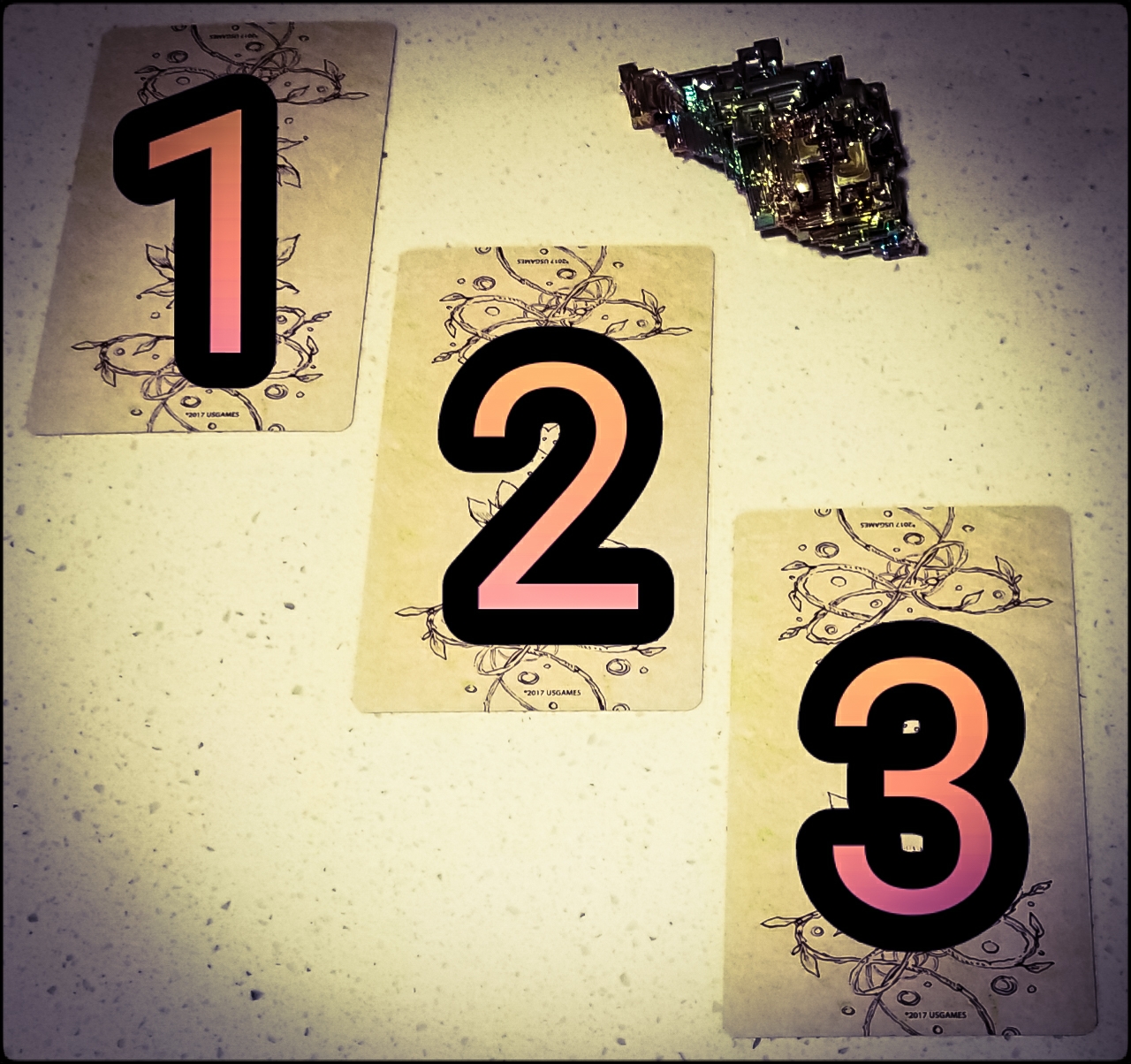 •
•
We're in the last week of Capricorn season, so if you need to get pragmatic in your approach to reaching any goals, especially long term, NOW is your time to start using this energy to fuel your ambitions. Look at the structure of the things you're building as well; make sure they're sturdy and will sustain the test of time. You don't have energy to waste on going back and creating new foundations if these ones are not solid enough, so if you wanna get real traction, don't be a lazy a-hole and take the time to fine tune those details.
We have new moon coming up on Tues the 16th in the sign of Capricorn as well! With all this Cap energy we should feel VERY focused on what we need to be doing right now.  It's time to commit and set those intentions and on Tuesday, the timing is finally right. The amazing astrologer Chani from chaninicholas.com says,
"The first new moon of the year occurs on January 16th at 6:17 PM PT at 26° of Capricorn. This is the first new moon in the sea-goat's sign since its ruler, Saturn, returned to it. This new moon acts like an initiation of sorts. We have lived with Saturn in Capricorn for a moment, but this new moon will make the relationship official. Seal the deal. Sanctify the ceremony.

Whatever you are serious about getting serious about, this new moon is your ticket to commit. Sitting with Venus, the new moon reminds us that all life is relationship and anything that we are in relationship with needs to know our intentions. Set yours and stick to them. Through thick and thin.

This new moon will end up growing itself into the first full moon and eclipse of the year. With this new moon, eclipse season is officially here. Get ready for the next go-round of changes, upgrades and upsets to the apple cart. Eclipses are a wild card that set major events in motion. What takes place around these times are fated in nature so watch what comes. As well as what leaves."
So how can we use the energy of this week to help us? My advice is this: In what area of your life (relationships and/or personal goals?) do you need to establish a realistic commitment in? How are the structures in your life looking, and is it time to tweak some things? How's your schedule been lately? Crazy? How can you get a better grip on your time and energy management (ahem..put down the phone) so you can take care of yourself? This week, make a commitment to yourself and what it is that you're pursuing. By making your intentions clear, greater things can be set in motion <3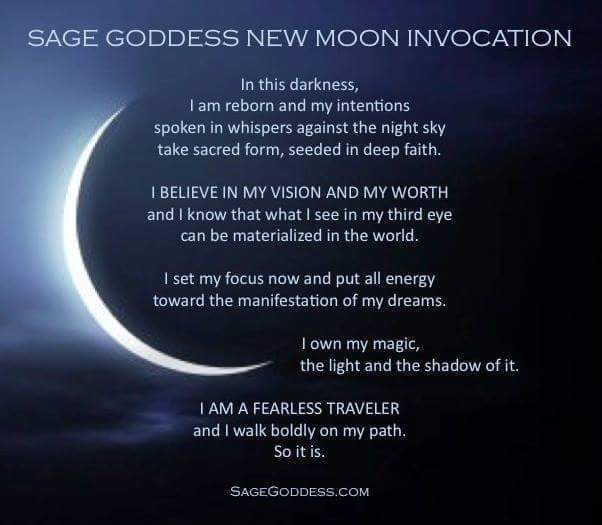 Consider doing an invocation, prayer or mediation on the night of the 17th or 18th to help you break free from old habits or to help you get clear on your new way of living. Feel free to use this invocation or make up your own. I like to write down what I'm trying to work towards and keep it in a place I can see it everyday. At the full moon, I'll check off what I've accomplished towards my goals and reassess what working and what's not.
Go ahead and pick a card (pick one, two, or all three cards–pick what you're drawn to). The stone you see in the picture above is Bismuth. Bismuth is a crystalline, brittle metal that is silvery-white with an iridescent hue. As an elemental metal, its number is 83 on the Periodic Table. Bismuth is often lab-created. Rainbow colored Bismuth can be a wonderful stone to use for focus, visualization and shamanic journeying. It can prevent you from becoming overwhelmed by all of your responsibilities while at the same time increasing your energy levels to deal with them. Bismuth relieves feelings of loneliness or isolation. It is a stone of transformation and change, helping to adapt to change with calm assurance. Bismuth encourages cohesiveness, so would be very helpful in group and/or relationship dynamics. Physically, use Bismuth to reduce fevers; find new treatments to deal with chronic illnesses; ease the effects of degenerative muscle conditions, and get you back on your feet after major surgeries. If you'd like to learn more about this stone, please go here. 
•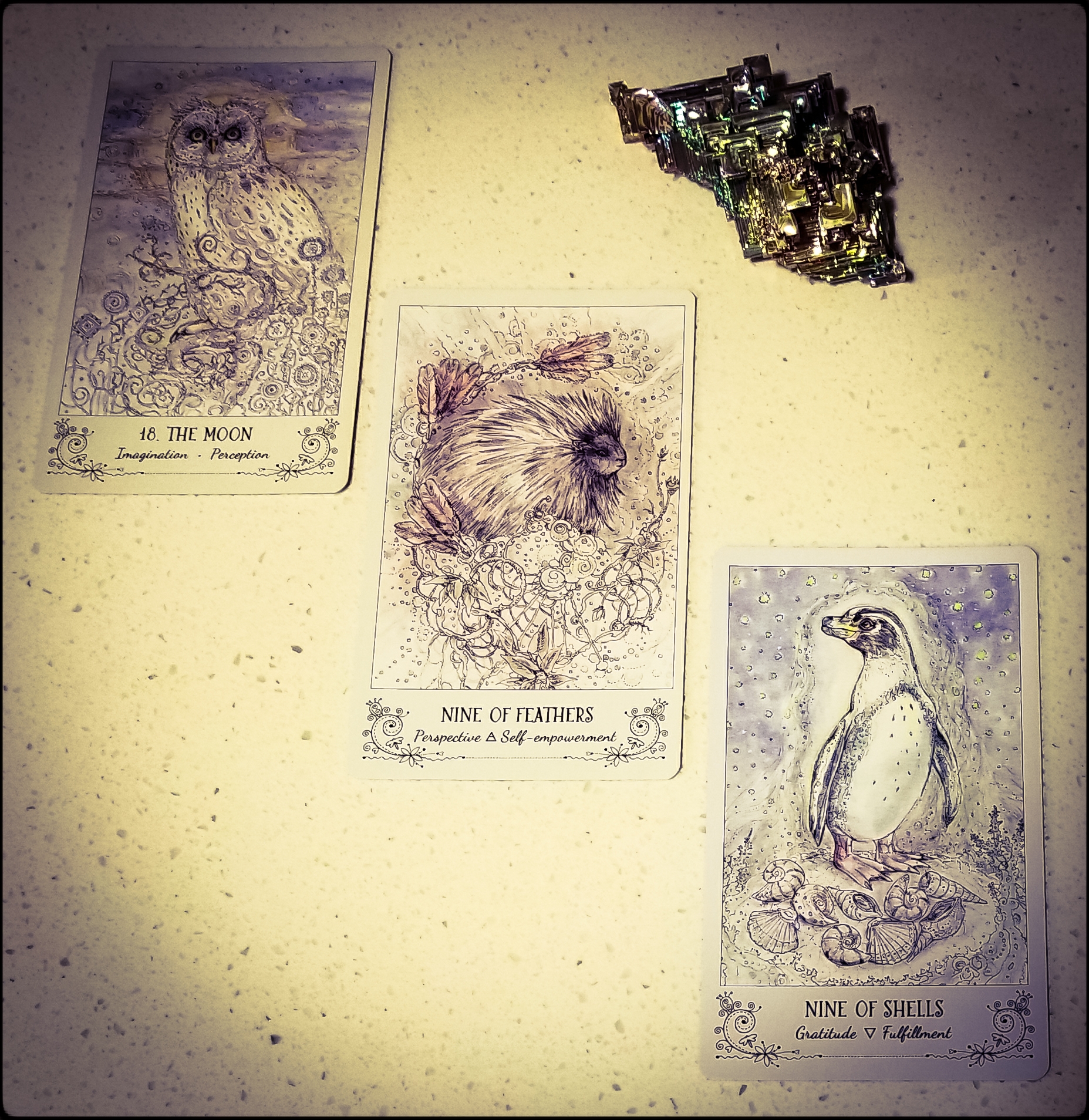 •
If you chose card #1: Your message this week is about Imagination and Perception. Your card goes on to say that Owl's time is the night, when subconscious powers are at their peak. By the light of Owl and her mysterious moon comes a flood of insight. A silent observer of intuitive knowledge, Owl pierces through illusions, bringing the hidden to light. The imagination is a powerful tool; it can be used creatively, or it can be used to strike terror within. Emotions will also shape the perception of any situation. Owl is here to assist you in seeing your way clearly, through fear and into the light of truth. Even into the cloak of darkness, your path will be illuminated. Trust in your instincts. Pay attention to dreams and watch for signs that will guide you. Additional Meanings: Intuition • Dreams • Emotions • Imagination • Perception • Elimination • Emerging awareness.
•
If you chose card #2: Your message this week is about Perspective and Self-empowerment. Your card goes on to say that Porcupine is equipped with all he needs to protect himself. He wears his quills with honor, and uses them to confront his fear. A mentor for the vulnerable, he's here to show you how to protect yourself from your own painful thoughts. When anxieties are at their height, it feels as though things are at their worst. Step back and look at the big picture. Things are not as bad as they seem. Adjust your perception and cast your sites into the future with optimism, knowing you are doing the best you can. Easing the grip of fear and anger will shed a heavy burden. Focus on your priorities, listen to your inner voice for guidance, and make the conscious choice to believe that tomorrow holds great promise. Additional Meanings: Overcoming fear • Perspective • Self empowerment • Solutions • Resurgence.
•
If you chose card #3: Your message this week is about Gratitude and Fulfillment. Your card goes on to say that Penguin is proficient at diving deep down beneath the surface of common perception to access what is needed in bringing dreams to fruition. Determined and insightful, he is your guide in the unfolding of a bright future. Penguin may not be able to fly a, but that doesn't keep him from soaring. His gratitude radiates, casting a wave of awakening across the sky. Enjoy the rewards of your past efforts. Remain appreciative of good tidings, and take flight into new scopes of your being. With the power of inspiration, you are the master of building your own reality. Additional Meanings: Happiness • Gratitude • Wishes fulfilled • Comfort • Triumph • Inspiration • Abundance • Rewards.
•
My hope for you this week is that you make a solid, loving commitment to yourself and what your needs are. If you cannot commit to yourself, how can you achieve all the dreams you so passionately want? No more excuses, so do what needs done and know that your patience and perseverance will pay off.
This is your week! Make it an amazing one 🙂