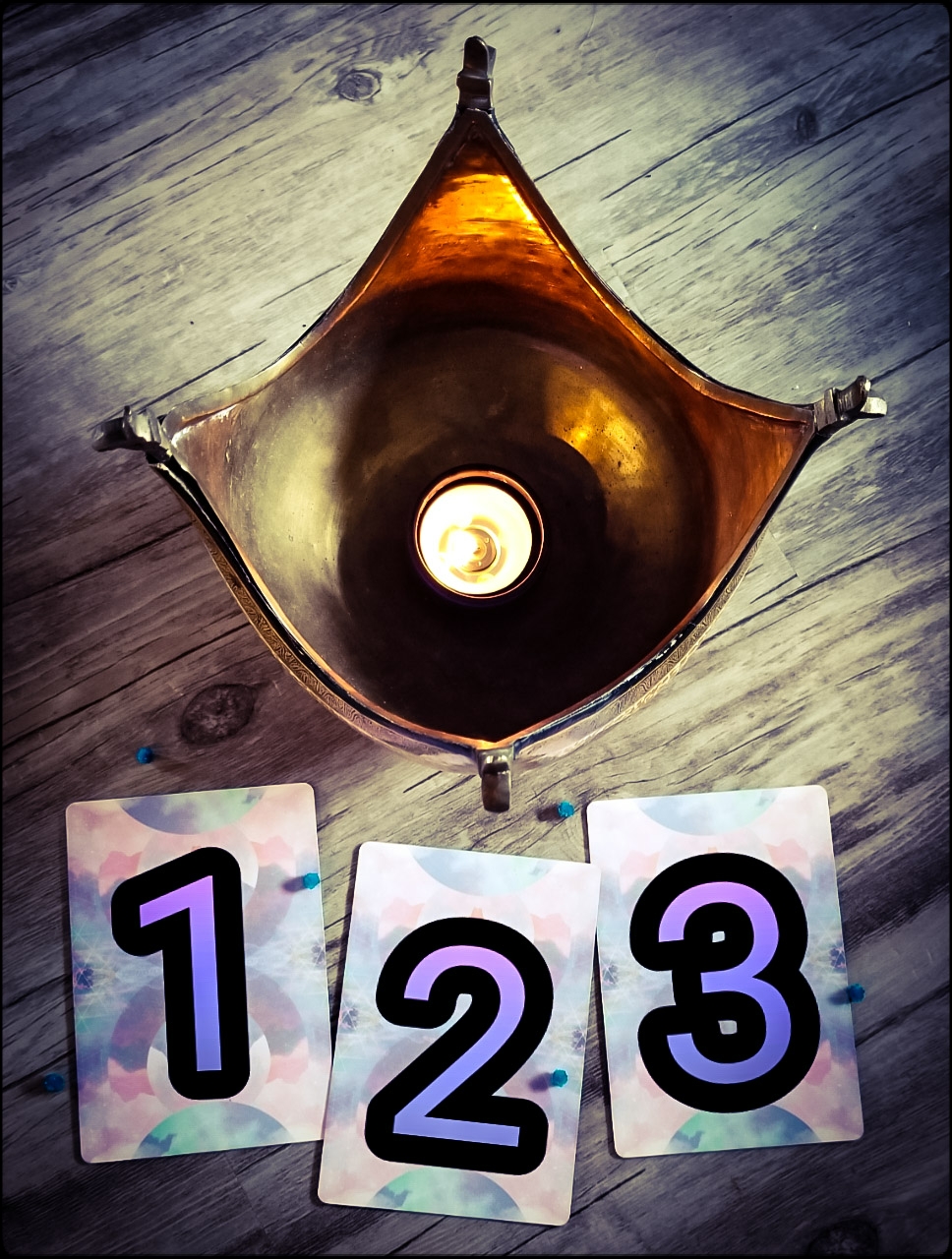 21 Aug

The week ahead: August 21st through August 27th: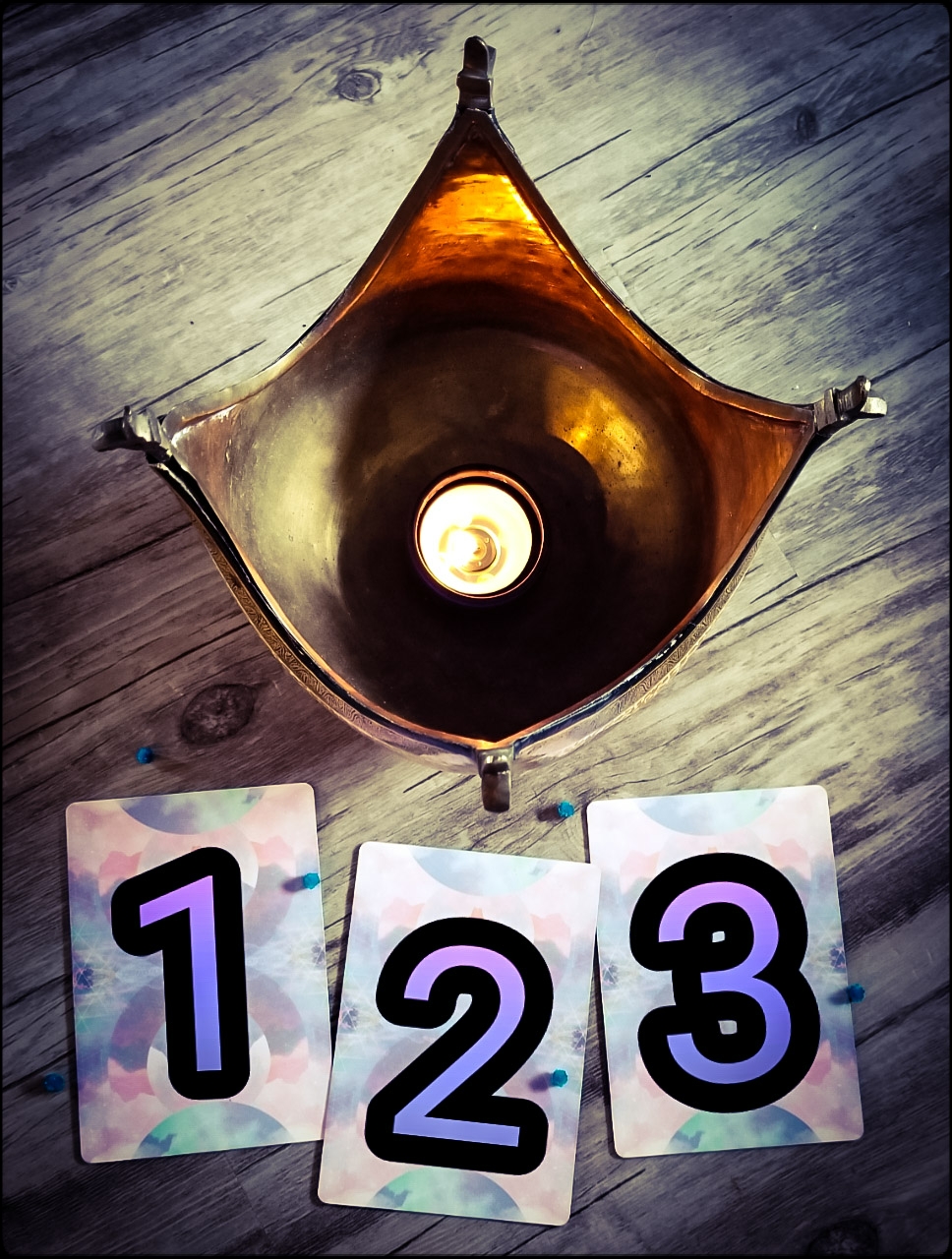 •
•
The solar eclipse is TODAY and it was AMAZING! I've been so excited for all of this and to experience the feeling of having the sun blotted out completely; freaky and oh so cool 🙂
The new moon also coincides today with the solar eclipse, talking to us about new beginnings. A new door is opening up, but we have to be clear enough to know what we want in order to walk through it, and hopefully, if we did the work the lunar eclipse on the 7th asked us to do, we slammed shut that biotch on some abusive bullshit, or fear in our life. Let me assure you that this is (and probably hasn't been) not an easy task, but please remember too that everyday we have is always a new opportunity to try again–don't give up on yourself and keep trying! Persistence, perseverance, and discipline will pay off, so keep up the good work.
Friendly reminder that Mercury is still retrograde in the sign of Virgo. If you need deep healing this month, now is your time to find the root cause of your pain, to remove it, and find ways to heal yourself; if this is a health concern, now is the perfect time to find a solution, or get a second opinion from another doctor. Mercury Retrograde is well known for taking us back to the past or bringing up people from the past or old issues that never got resolved. Re-work, re-do, re-structure, or re anything that needs an upgrade. Don't be afraid to heal what's broken. You have a golden opportunity to get it right, so take your time and step up to the plate when called.
Fortune favors the brave, says Leo, and since we're in Leo season and this new moon solar eclipse is in the sign of Leo as well, brave is what we shall be. Leo is a sign that loves recognition and thrives off of award. It's a competitive fire sign, ready at any minute to start a new adventure that allows them to include or heal their inner child along the way. Passion, ego driven, leadership, flair for the dramatic, guts, daring, and creative would be some words I would use describe a Leo, so look to see how this solar eclipse brings to light any of those themes for you. Leo also rules the heart, so you're going to be asked to follow your heart in regards to whatever you're pursuing. In order to do that though, you should be working on the things that are keeping you held back; either letting them go or finding solutions to resolve the issue at hand, but you HAVE to be real with yourself about your current situation, first. The Amazing Astrologer, Chani Nicholas says,
"The planets do not play this week. They do not rest. They do not let us get away with anything short of our best. So bring it. Use these days like prayers. Like affirmations. Like you are speaking and acting your way into a new chapter of your life. Personally and collectively. Eclipses are about both shadow and light. Consciousness and unconsciousness. Brilliance and mystery. None of us is without our shadow material, our unconscious habits and patterns, our specific style of self-undoing. None of us is without our ability to shine brilliantly. To warm the room. To bring awareness to places of ignorance. During eclipses, we are asked to understand where in our lives we feel eclipsed. What issues we are harboring that tend to eclipse our ability to heal. What wounds rob us of joy and connection. So that we can bring a little bit more awareness to the work we need to do. So that we can be better agents in the process of the world's healing. So that we can be better agents in our own healing. The meaning of eclipses do not unfold in one day. They unpack themselves over longer stretches of time. They occur in the same sign over the course of a couple of years, revealing the potency of these portals slowly. This week's total solar eclipse is one of a cluster occurring in Leo from 2017-2019. It is arguably the most dramatic of all of them and the most visually stunning, but remember that it isn't the whole story. We'll have to live out the rest, in order to truly appreciate its significance."
So how can we use the energy of this week to help us? My advice is this: Where are your ego issues hiding deeper insecurities, and what can you do to face your fears? Where are you being asked to be a leader in your life, and how can you answer the call? What lessons from childhood do you need to let go of and which can you take with you; or where can you re-work, re-vise, or re-structure some lesson or gift from the past to better suit you now? Where do your gifts and abilities lie, and how can you start to share them so that they benefit a wider audience, in a creative way? Where is your heart trying to lead you at this very moment? This week, follow your heart. Your new beginning awaits <3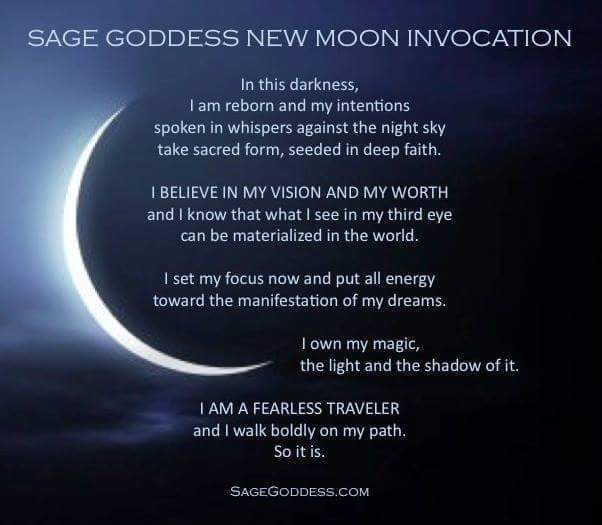 Consider doing an invocation, prayer or mediation on the night of the 22nd or 23rd to help you break free from old habits or to help you get clear on your new way of living. Feel free to use this invocation or make up your own. I like to write down what I'm trying to work towards and keep it in a place I can see it everyday. At the full moon, I'll check off what I've accomplished towards my goals and reassess what working and what's not.
Go ahead and pick a card from above (pick one, two, or all three cards–pick what you're drawn to). The stone you see in the picture is cavansite. Cavansite is a stone of transition through major life changes. It aids you to let go of faulty thinking and be comfortable in the knowledge of your actions. It has a lovely heart felt energy, that is excellent to use in meditation. It helps you to make sense of previous experiences, or life lessons that you may have had difficulty with in the past, and to optimistically and happily deal it. It aids your ability to connect with spirit and is a highly useful stone for those in psychic employment. It aids you to remember information gained from spiritual journeys, and facilitates the clear communication of messages from the spirit world. Blue Cavansite Crystal may assist healing of the body, and can help to open and heal the heart chakra. It helps the cells to remember the state of perfection where they began, so they can return to it. It is said to enable some individuals who attune to its energies to be able to access the Akashic records, the repository of all history and knowledge on the etheric level. It is a comforting and calming stone that is excellent to use to help to heal grief and loss, and using this crystal is one of the ways to relieve your stress This is a stone of truth, and allows you to accept yourself as you are, as well to accept others as they are. This crystal will unite the throat chakra with the third eye chakra, and this unity of the two chakras is highly beneficial. This lovely crystal embodies the energy of the purest blue ray which is why it has such a strong energy in the throat area. This will allow you to be able to express more clearly, any spiritual communication that comes through to you. Cavansite is known to help to heal the eyes, the throat, the kidneys and bladder, and may aid tinnitus, also known as ringing in the ears. By using this blue stone during your daily meditation, it allows you to slip easily into the state of mind needed to make the journey to the higher realms. This may assist you to develop a large number of psychic gifts, including helping you to develop your intuition and assisting clearer communication with spirit. If you'd like to learn more about this stone, please go here.
•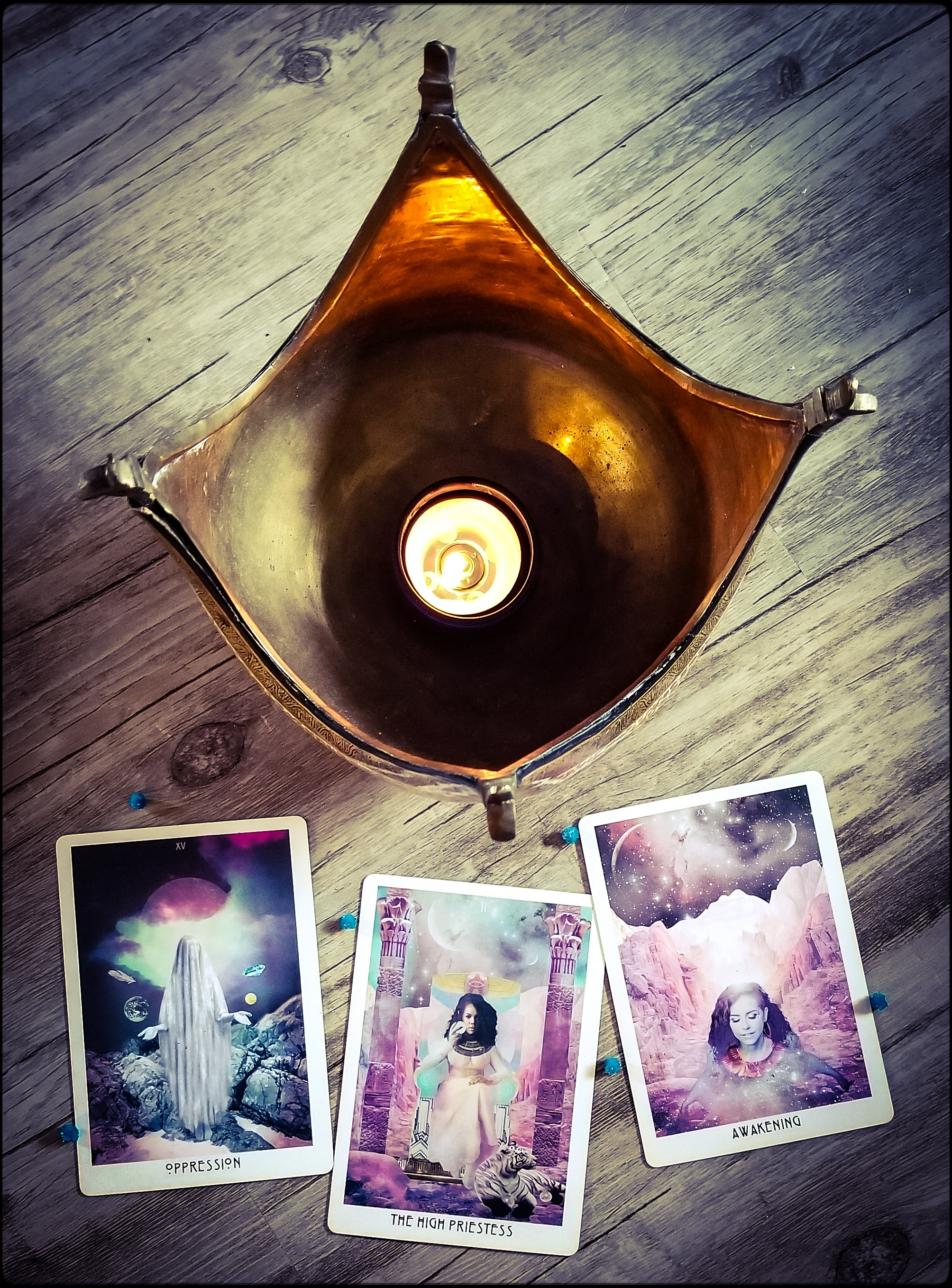 •
If you chose card #1: Your message this week is about Oppression. Your card goes on to ask–what is holding you back at this time? It could be that you already know what it is, but you have not been able to say it out loud. It is time to acknowledge a state of entrapment that is happening in your life. This could be a negative relationship with someone, a fearful mindset, or some kind of addiction. Oppression may also indicate a lack of moderation or self-control. Know that you are fully capable of breaking free from these habits, in order to look back on this time in your life with a sense of victory and relief. Something big needs to change. This card may also indicate that you may be too focused on the material things in life that are distracting you from recognizing your spiritual self. Questions to ask yourself right now: How can I break free from the bonds that have been holding me back? Am I ready to let go? Additional Meanings: Ego • Ignorance • Dependency • Temptation• Debt • Excess • Materialism • Habitual worry.
•
If you chose card #2: Your message this week is about The High Priestess. The High Priestess is a bearer of magic, spiritual teachings, and inner knowledge. She has a deep understanding of the higher realms of consciousness and acknowledges the universal balance of light and dark energy. This card indicates an awakened spiritual or psychic awareness and encourages you to make time for introspection and meditation. It is also advised that you listen to your intuition and dreams, and reflect on the feelings and visions you experience each day. It is the understanding of your greater purpose and soul potential through attaining a balance between your physical and spiritual self. You alone have the power to raise your vibration in order to access the higher realms of sacred knowledge. Questions to ask yourself right now: How can I access the sacred wisdom and truth of the universe? Am I ready to raise my vibration and connect with my higher self? Additional Meanings: Wisdom • Education • Mystery • Magic • Serenity • Secret knowledge • Akashic records.
•
If you chose card #3: Your message this week is about Awakening. Your card goes on to say that awakening is the understanding of your inner divine intelligence. You can look back on the choices you have made and identify the lessons you have learned, with each step advancing towards your own spiritual ascension. No more fears. No more doubts. No more self-judgement. This is a time of transformation: through elevating your thoughts, speaking your truth, and connecting with the divine light that ignites within you–this is a time of profound spiritual change. From each stage of learning, you may find yourself at a crossroads, on the verge of making an important leap forward. This also indicates that something you have been anticipating is finally getting closer. Divine wisdom come from letting go of any negative feelings you have been harboring towards others or yourself. Holding onto guilt, fear, or resentment cannot serve you in any way and prevents you from connecting with your Higher Self. A time to release the old attachments and practice forgiveness. Questions to ask your self right now: Do I need to forgive myself or someone else? What am I resisting at this time? Am I ready to take the next step in my own healing and transformation? Additional Meanings: Epiphany • Letting go of guilt • A period of improvement • New beginnings • New jobs • Transition • Renewal.
•
My hope for you this week is that you take a minute to reassess where you are and WHY. If fear about stepping into something you're being called to do is a part of that reason you're not doing something, my hope is that you decided you can no longer live like that. Find hope and resolve this week. Stand fast in the face of your fear. Your planting seeds for the future at this very moment! Be present, and be aware of all that you do <3
This is your week! Make it an amazing one 🙂