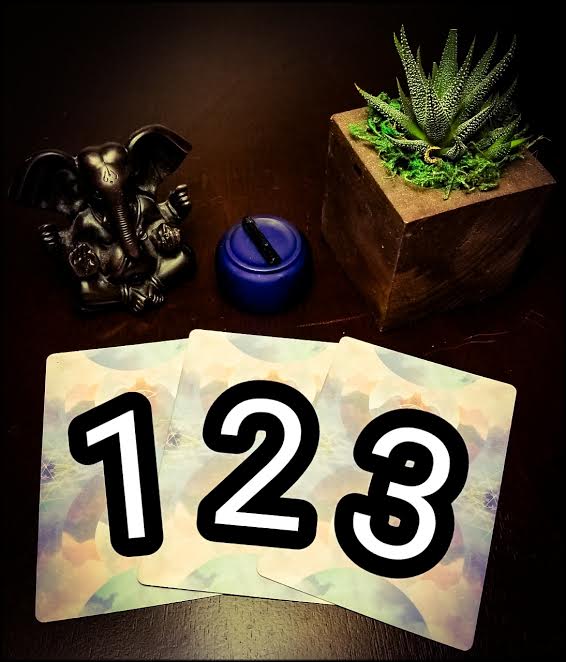 08 May

The week ahead: May 8th through May 14th: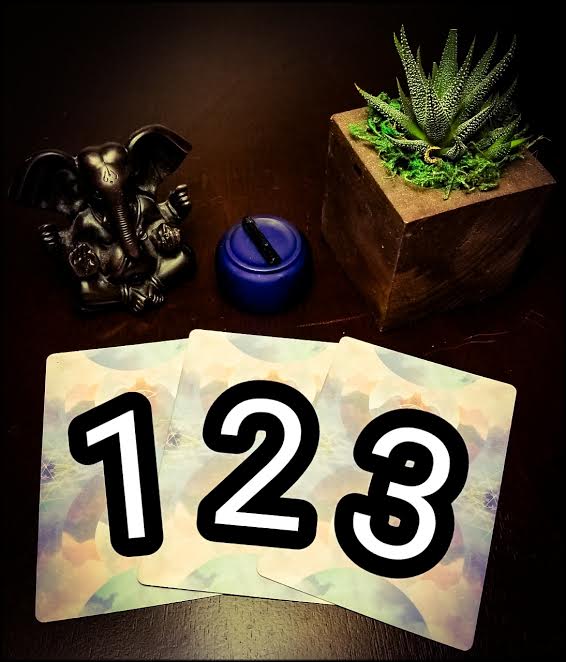 •
•
Here we go! We have a full moon on Wed the 10th in the sign of Scorpio. You want to talk about intense people? Go hang with a Scorpio and get ready to talk about everything. They want to know your inner workings and don't even try to lie to these guys because they'll see right through your BS. Scorpio's are known for being extremely sensitive, energy wise, and they can pick up on the slightest thing that's off with you, which makes them amazing friends and caring family when they just KNOW that you're not doing well. What I find most fascinating about them though, is that a major theme for them in life has to do with power, and for them, it all starts within; I mean shoot, their ruling planet is Pluto, so we're talking about death, birth, and rebirth—that's some heavy stuff! I feel like out of all the signs in the zodiac that Scorpio's get the worst rep because of that beautiful intensity, but honestly at the end of the day, all they want is to connect on a real, deep level and to be seen for who they really are; doesn't everybody?
We're still in Taurus season too, so themes of safety and stability are going to be high on your list of things you'd like to have this month. Taurus and Scorpio are opposite signs in the Zodiac, but if you ask me, they're incredibly alike. Both Taurus and Scorpio deal with themes of power, where Taurus likes to have it right in front of them, in their bank account and in the things they buy and surround themselves with (collecting them, really). Scorpio is more about the power from within and how to build that strong enough that all they ever really need is to trust in themselves. Both love all things sensual (not just sex) too, but again, Taurus is more interested in their surroundings and people, wanting a tangible, grounded reality they can touch and use, while Scorpio wants to own it and live it; they want to become the things they see as powerful and then share that with others.
So how can we use the energy of this week to help us? My advice is this: How you can you start to know when to rely on your power within or when to ask for help as you need it? Where do you need to connect with yourself on a deeper level so you make sure you're still in alignment with what you're trying to achieve or do in your life? How can you start to understand why you need a certain type of safety and security, accept it, and use this knowledge to build a strong foundation from which you can achieve these things? I think I've always had a problem in my life with when to ask for help and when to just do it myself, and I always seem to go with the latter. I hear from Spirit ALL the time and I tell their loved ones here in their readings ALL the time that they don't have to do this all by themselves, just ask for help. All we have to do is give them permission. Not only does it relieve you of some of your insanity, but it also allows you to work in tandem with them, deepening your relationship. They'll send all kinds of signs and signals to get your attention to let you know you're on the right track,  but all we have to do is remember that we're not alone and we always have support. Let me tell you that I'm about to give more poor Poppa in Spirit a real workout this week as I still need to pack up my house and find another one to live in. I can only handle one thing at a time, so I'm going to delegate finding a place to him. I'm still going to peruse around and see what I can find, but I also trust that we'll hear about the perfect place at just the right time if I put it in his hands. What I'm really doing is giving my fear to him because it's too much for me to handle. I think I'm finally grownup enough to admit this, and blessed to have him in Spirit to help me. This week, connect with yourself and those you care about on a real, deep level, so that you know with out a doubt that all the safety and security that you're looking for is already here for you <3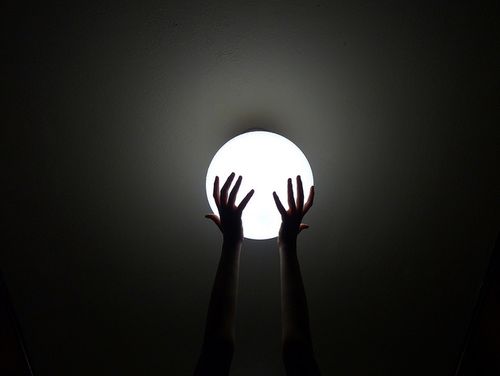 Think about drawing down the moon this week. The full moon is a time when relationships of all kinds are highlighted, including the one with yourself. It's also a time when projects started at the last new moon can be harvested or completed. Take stock right now of any imbalances in your partnerships and wrap up projects that need to move on to the next level. You can also set out a bowl of water at this full moon to soak up all the energy. You can use it later to scry in or use the water to nourish yourself with. If you like to do incantations, prayer or mediation at the full moon, this will add some pep to your step. I like this Pagan/Wiccan incantation I found that says, "Mother Goddess, lend me your light. Give me your power on this faithful night. I invoke you into my being and soul. Fill up my vessel, make me feel whole. I stand before you in awe and in love. I cherish your gifts you send from above. I ask you tonight to show unto me. My mother, my Goddess, So Mote It Be." Feel free to change this in any way you like or to make it your own, any way you see fit. Make sure to face the full moon and out stretch your arms so you can take everything in. Enjoy this powerful energy!
Go ahead and pick a card from above (pick one, two, or all three cards–pick what you're drawn to). The stone you see under the cards in the picture is aegirine. Aegirine is a good crystal for overcoming self-consciousness and unnecessary shame over appearance, and is an excellent companion for those with disfigurement or body image problems. A very female-friendly crystal, Aegirine assists women in overcoming hidden prejudice in the workplace, and lends emotional support when returning from maternity leave. It is an excellent crystal for doctors, nurses or others who are continually exposed to the toxic energies of traditional hospital environments, and shields those in home office and workplace settings when constantly exposed to the electromagnetic fields of computers and electronics. Aegirine expands the power of other stones in all healing situations by boosting the body's own ability to self-heal. Aegirine is a powerful protector of those suffering jealousy, malice, mental influence or psychic attack from others. Use once a week as a wand in the hand you write with to thrust energies away from you in all directions as you state your intent of protection. Carrying or wearing Aegirine helps force the release of negative attachments that may have taken root in the aura's protective field weakened by abuse of alcohol or drugs, or by smoking cigarettes (though the effect is more gradual). Working with Aegirine in body layouts or in conjunction with other subtle body healing can, in time, regenerate the damaged auric shield. Take Aegirine on journeys of self-discovery, whether spiritual or traveling to new destinations. It is a good talisman for backpackers for protection against negative energies and inhospitable places and people. If you'd like to learn more about this stone, please go here. 
•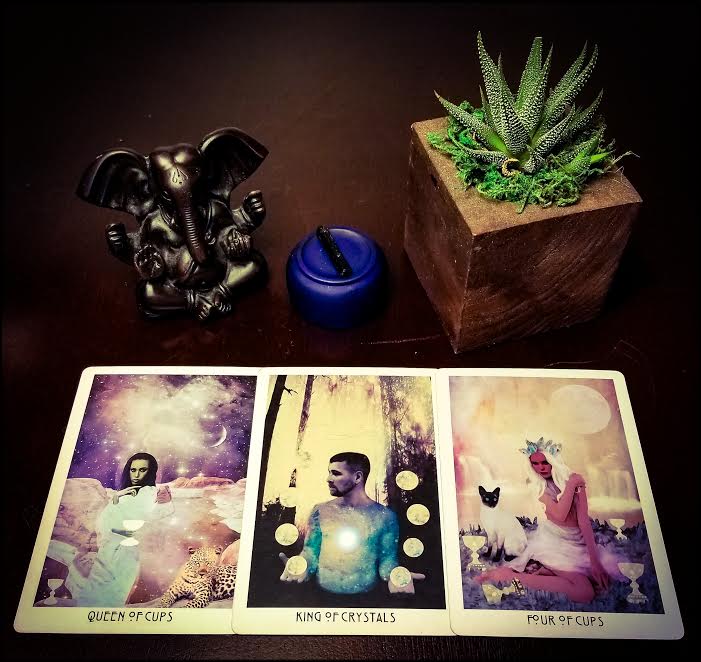 •
If you chose card #1: Your message this week is about the Queen of Cups. Your card goes on to say that if this is about a situation: The evolution and growth of loving relationships with others. A time to listen to your inner voice and psychic abilities. Being able to heal oneself or others. It may be that you will offer counsel, wisdom, or advice to those who are in need. The manifestation of loving energy. If this is about a person: The Queen of Cups is an expressive and nurturing individual who is deeply attuned to the emotional needs of others. They are honest in their convictions and will always communicate from their higher self and innate psychic abilities. This person is gentle, kind-hearted, and empathizes with all. The Queen of Cups may also come off as quiet and shy, but is highly intelligent, and modest in their values and opinions. Additional Meanings: Introspective • Psychic • Loving • Compassionate • Honest • Healing.
•
If you chose card #2: Your message this week is about the King of Crystals. Your card goes on to say that if this is about a situation: It is important to think methodically with your plans. If you look to the future with a clear vision, and move forward with self discipline and determination, there's nothing you cannot accomplish. The King of Crystals remind us to stay attentive to detail and be open to new opportunities that present themselves. If this is about a person: The King of Crystals is an extremely capable and practical person. Once they set their mind to the task, they will always follow through with their work until it is completed. Being ambitious and dedicated, they are more often than not, highly successful in their careers. Their pragmatism can provide you with clear and honest advice, as they are always willing to help those who ask for guidance or direction. The King of Crystals can sometimes come off as shy or introverted, but do not be fooled by this exterior; underneath, they are highly sensitive and spiritual beings who find deep connections to the earth and nature. Additional Meanings: Business savvy • Logical • Family oriented • Pragmatic.
•
If you chose card #3: Your message this week is about the Four of Cups. Your card goes on to say that it could be that you're missing out on an opportunity if you're being distracted by external forces. It is a sense of restlessness and boredom which has you feeling stuck in a rut. Are there issues from your past that are weighing on your present situation? If you are fearful or indifferent about making a change, you may continue to dwell in a state of denial. Perhaps you're not seeing what is right there in front of you. You have a system of love and support in your life–how can you connect with this? Is there anything you're taking for granted? Take a moment to meditate on the aspects of your life that you are truly grateful for. See the positive highlights, rather than focusing on the negativity. Additional Meanings: Disappointment • Apathy • Boredom • Letting your imagination get the best of you.
•
My hope for you this week is that you strike a balance within yourself. Get those safety and security issues squared away too so that you're free to do what you need to do.
This is your week! Make it an amazing one 🙂