04 Apr

The week ahead: April 3rd through April 9th:
•
Well, Mercury retrograde doesn't start until the 9th, but I'm already feeling the effects as I get the weekly out a little late 🙂 "Uggghhhhh, Mercury Retrograde!" I hear you all bemoaning me as all the eyes are rolling. Let me assure you guys that Mercury Retrograde can be an incredibly enlightening time too, if you just give it the chance. Yes, all things electronic will be going haywire, as well as our thoughts, communication, and travel, but truly if we need help with planning and measuring out a path ahead, this is the perfect opportunity to take our time working at whatever project, goal, or relationship we've been striving towards, especially if a second chance is needed to make something better or go in a different direction. Since this retrograde will be in the grounded sign of Taurus, expect money and relationships issues to be coming to the forefront. Venus retrograde is still happening and is covering some of the same exact problems, so if you guys are having a hard time of it lately in those categories, look to see what's not working properly and deal with what you've put off. I think the worst issues with this time is the feelings of indecisiveness. Don't beat yourself up and take your time making a decision, especially if this is a life altering one. Taurus reminds us that slow but steady wins the race, so don't rush ahead or you may make things worse.
We're still in Aries season, so you're going to feel like you want to get a jump start and get things moving already—again, please work through this urge and take your time. Mercury retrograde may hide some integral info from view, so you don't have all the pieces you need yet in order to move forward. If you employ anything from Aries right now, put all your passion into planning out your next steps as well as working on your inner, spiritual journey (Aries love that shiz).
So how can we use the energy of this week to help us? My advice is this: What can you do to remind yourself to double check EVERYTHING you do during this retrograde period (especially be careful of the words leaving your mouth)? What overdue task has been nagging at you that you've been ignoring (money or relationship issues, maybe)? What has revealed itself that isn't working properly, and how can you rectify this? It never fails for me to see old friends during Mercury Retrograde and I gotta say that it's my absolute favorite part of this time. It can be really nice to revisit old times and talk about how it was when I thought I'd live forever. I have a tendency to get caught up in this though, wishing things could be as simple as they were then and looking at that time in my life with rose colored glasses. If I'm honest with myself, it wasn't easy at all, and to get real, I had no idea what I was doing then which was a terrifying place to be. I wondered why we keep trying at goals and accomplishments even if it's pure hell while we're doing it; what is that motivating factor and why do we forget about the insanity we went through previously? I think we do this because we know that the story line works itself out; this isn't our first rodeo, and there's this urge to create something or give birth to a dream. It also reminds me of what I hear about giving birth—it's excruciatingly painful and pretty scary, yet when the baby gets here, it's like none of the craziness mattered and most people end up having kids again, forgetting how bonkers the whole process was. Consider this your time to give birth to whatever you're working towards! This Mercury retrograde and Venus retrograde are your labor pains and prepping time before baby gets here (and swearing to jebus you'll never do this again)–patience and perseverance is required for you to accomplish your goals because you realize that some things aren't on your time but are still worth the effort. Once the birth process is over (Mercury goes direct on May 3rd and Venus goes direct on the 15th of April), you have this newborn you need to nourish, support, and love and your greatest joy will be to see it grow happy and healthy into everything you dreamed it could be. This week, take your time and be present with your "labor" pains. You're creating something substantial here and that, my powerful ones, takes time <3
Go ahead and pick a card from above (pick one, two, or all three cards–pick what you're drawn to). The stone you see in the picture is Citrine. Citrine is a joyful stone with bright energy which lights up many aspects of lives of those who work with it. It has energies of good fortune and good luck, though these may appear in unexpected ways. Citrine is well known in crystal work as a success and prosperity stone to the point that it is called the "Success Stone." It is said to promote and manifest success and abundance in all areas, and in many ways. It is particularly used to promote success in business if used in the cash box of a shop, carried or worn, earning it another nickname, "Merchant's Stone." In addition to manifesting abundance, Citrine also brings energies of generosity so that the prosperity and success is shared. Citrine is a solar plexus chakra  stone used metaphysically to increase, magnify and clarify personal power and energy. This increased personal power can be used for the focused intent of the individual, as it brings will power as well. If you'd like to learn more about this stone, please go here.
•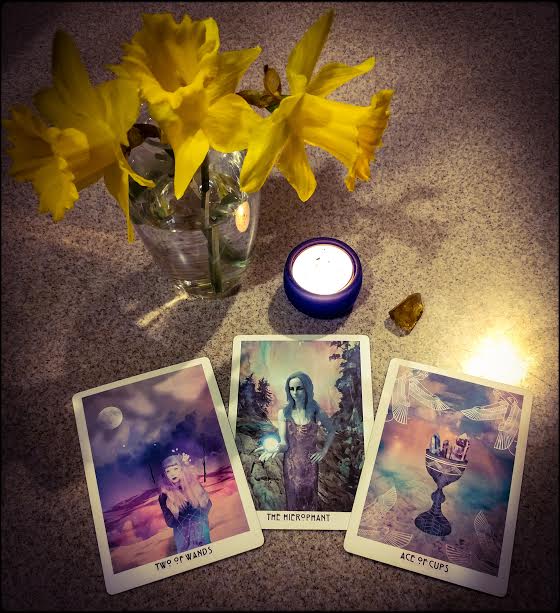 •
If you chose card #1: Your message this week is about the Two of Wands. Your card goes on to say that this is a great time of clarity and success as you direct your focus into achieving your goals. You have acknowledged your options and can now look ahead with purpose and determination. This is also a card of power and choice. It may be that you will need to decide how you are dividing your own energy between certain projects, relationships, or opportunities. You have the power to take an initiative or risk without worrying about potential outcomes. You are following your own path, which leads to the acknowledgment of your inner truths and true creativity. Additional Meanings: Personal power • Inventive • Facing your fears • Seeking wisdom • Individuality • Choice • Options • Partnerships.
•
If you chose card #2: Your message this week is about the Hierophant. Your card goes on to say that the Hierophant indicates a wonderful time for you to explore new things, meet new people, or gain new insights and spiritual knowledge. This may also signify someone who has the potential to shift the course of your life path, in order to bring enlightenment, wisdom, and truth. Do not limit yourself–exploration is an important part of self-discovery. This may also mean pursuing new avenues of education or learning through formal training. They Hierophant may also suggest a need to connect with a unified consciousness. It could be spiritual in nature, or within the conventions of a group or organization. If you are searching for greater meaning at this time, think about what it is you would like to learn or change in your life. What activities can you explore that connect with your own spirituality? Questions to ask yourself right now: How do I celebrate my spiritual self? What do I have yet to explore? What brings me joy, peace, and happiness? Additional Meanings: Council • Teacher • Advice • Spiritual wisdom • Guidance • Mentorship • Knowledge • Education • Unity.
•
If you chose card #3: Your message this week is about the Ace of Cups. Your card goes on to say that the Ace of Cups is a celebratory card indeed! It indicates a time of new beginnings and relationships that leave you feeling energized and giddy. This could mean new romance or deeply rooted connections with others. It is a powerful force that regards the emergence of Universal Love and cosmic ties with soul families and friends. Your psychic senses may also be heightened at this time, so it is important that you trust in your inner voice and intuition. A wonderful period to explore new avenues of self expression and creativity, which will raise your vibration to a whole new level! Additional Meanings: Motherhood • Marriage • Productiveness • Good health • Friendship • Romantic love • Psychic growth.
•
This week, take your time.
This is your week! Make it an amazing one 🙂