20 Mar

The week ahead: March 20th through March 26th:
•
Happy Spring Equinox to those in the Northern Hemisphere and Happy Autumn Equinox to those in the Southern! Today marks the day in the Northern Hemisphere as the first day of spring and also serves as the new year on the astrological calendar. Today is a celebration of fertility, longer days, new ideas and new beginnings. There's a perfect balance of light and dark as the day and night are equally as long. Now would be the perfect time to both symbolically and actually integrate all sides of yourself—both light and shadow—into the powerfully whole person you are. I feel like acceptance will be a huge theme coming up for all of us right now, so pay attention to those things in your life that you're not accepting of and ask yourself why.
We're also in Aries season too (yay!). Aries are known as the leaders (besides Leo), innovators, and adventurers of the zodiac. Ruled by the planet Mars, these guys are fiery and intense go-getters and they will never take no for answer; obstacles only makes them work harder. Being the first born of the zodiac gives them a fresh, child like perspective on the world that some might even call naive. Aries don't care though and it's this very thing that gives them the hope and excitement to go places other fear to tread. These guys are also known for a being a bit selfish, so watch out this week for making it all about you, or forgetting the people most important in your life by getting stuck in your own story.
So how can we us the energy of this week to help us? My advice is this: Where can you take courageous action in your life? How can you "give birth" to a new you or creation/project that you've been working on? How can you balance both the light and the shadow of yourself so you accept all that you are? This time of year always feels special to me: it heralds my birthday coming up (April 19th! Whoop!), Spring is in the air and the flowers and bunnies are EVERYWHERE, and it feels like the world is coming alive again. I'm thinking about drawing a bath tonight and filling up the tub with Epsom salts, magnesium salts, pink Himalayan salt, and some of my ritual salts from a batch of Florida Water I made (can you tell I'm obsessed with salt?). I'm going to drop in my favorite stones and essential oils I work with and I'm going to bless the water, giving myself permission to give birth to the greatest evolution of me yet. I'll hop in for my 30 minutes and I'm going to play music that soothes me while I contemplate what my next moves are for everything I'm trying to accomplish. When I'm done, I'll pamper myself with some Argan oil and remind myself that I'm here on a sacred mission to love. This will become my new birth story for this year. I want to do something that symbolically feels like giving birth (water felt the most natural to me) and if you're looking for the same and a bath sounds like the worst, consider going for a run, digging in the earth and planting flowers or herbs, painting, singing a song and dancing, writing what you'd like to give birth to this year, or just starting on whatever you've put off. Whatever you decide to do, this week, take courageous action in your life. You have a perfect time to be bold, so use this Aries energy and don't take no for an answer <3
Go ahead and pick a card from above (pick one, two, or all three cards–pick what you're drawn to). The stone you see in the picture above is white adventurine. The sparkling mica inclusions within white aventurine are said to mirror the soul. By virtue of its reflective traits, one can see and know the truth of each person they meet, and can love them with integrity just the same. It provides clarity; it enables you to understand the meaning of dreams and visions, and it enables you to define issues within you and intelligently resolve them. As well, it helps you to make your point known, and to understand more fully and clearly what others are saying to you. White aventurine helps you to connect with the divine feminine, alleviates insomnia, enhances fertility, and emanates energies of peace. It guides us to make choices that are morally apt, encourages sincerity; and as it draws such positive energies, it is effective to use as protection – especially during spiritual journeys. This stone also tempers one with humility, eliminates phobias and fears, and allows one to see each opportunity as being full of potential. If you'd like to learn more about this stone, please go here. 
•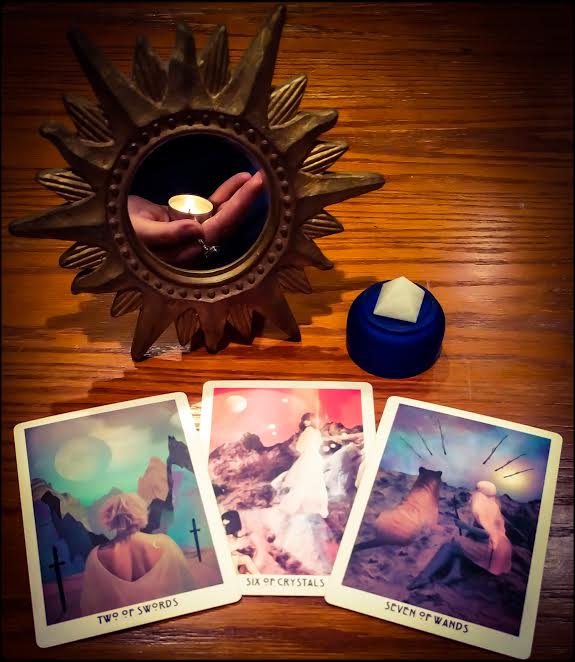 •
If you chose card #1: Your message this week is about the Two of Swords. Your card goes on to say that if you find yourself at a crossroads, it is time to trust your inner voice and intuition. There is a need to enforce a sense of balance between two or more opposing factors in your life. Any big decisions you need to make must be acknowledged and addressed. Do not fear potential outcomes, as fear will only hold you back from finding a positive solution. Have the courage to trust in yourself. Additional Meanings: Equilibrium • Peace and Justice • Truth • Self-doubt • Strength.
•
If you chose card #2: Your message this week is about the Six of Crystals. Your card goes on to say that the Six of Crystals indicates a state of balance and abundance in your life. You recognize the value of your relationships, spirituality, and the mutual benefit of loving support for others. This is also a time for inner-growth and prosperity. You've risen to the occasion and can now look back on the choices you have made that have led to your state of knowing–how will you move up from here? Opportunities, gifts, or rewards may be closer than you think. Additional Meanings: New Opportunities • Career • Philanthropy • Generosity • Prosperity • Advancements • Growth • Abundance.
•
If you chose card #3: Your message this week is about the Seven of Wands. Your card goes on to say that a positive change is more than possible, as you will be able to stand out as victorious. Any projects or ideas that you have will require your attention, planning, and innate skills. Expect to triumph through your own personal courage and inner strength, while overcoming any challenges you may be having. This is a very dynamic and energetic time in your life, so it is important that you stay strong and assert yourself. Do not be afraid to speak your truth. Additional Meanings: Gain • Competition • Creative abilities • Success within reach.
•
My hope for you this weeks I that you're ready to make things happen. It can get really easy to slip into a funk or get lazy about goals. We're now in a season that supports action with an added bonus of energy and excitement, so get out there and make your dreams come true!
This is your week! Make it an amazing one 🙂