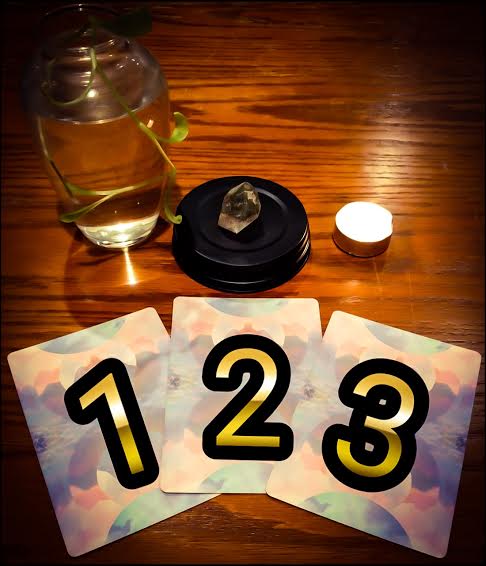 06 Feb

The week ahead: February 6th through February 12th: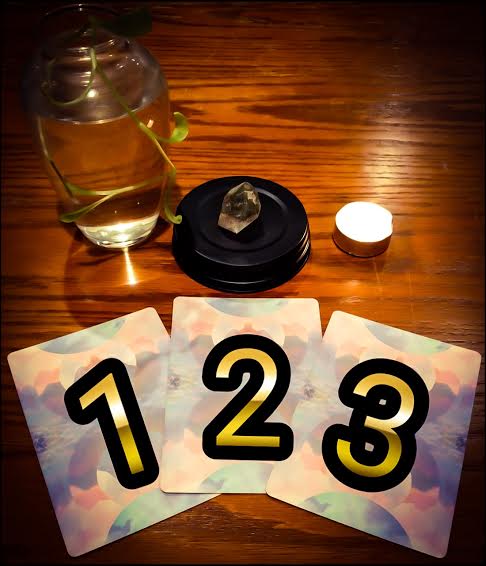 •
Oooh! We have a full moon lunar eclipse coming up on the 10th/11th and it's in the sign of regal Leo. Eclipses are always a potent, powerful time, helping to bring about endings where maybe we didn't know how, so we can start anew and get headed in the right direction. Lunar eclipses also represent the resetting of emotions, where the full moon brings illumination to all things, highlighting endings as well as relationships of all kinds—this combo is very intense and can be hard for some people's mental space, so watch out for depression and anxiety right now. Eclipses are like doorways: the last lunar eclipse we had was back in September, so this eclipse should be bringing a close to whatever was happening then. This ending is paving a path to a new doorway, which is occurring at the solar eclipse at the end of the month. It's important to trust where an eclipse takes you—you may not be happy with some of the endings that occur or be aware that this new path you're embarking on is really the one you asked for, but try to keep in the back of your mind right now that when everything feels like it's falling a part, it's actually falling into place.
We're still currently in Aquarius season, so those themes we've been working on dealing with such as worldwide views, equal rights for all, humanitarian efforts of all kinds, and rebelling against whatever is stagnant in our lives or abroad are still at play. You've probably experienced lighting fast communication and thinking as well, since this sign is an air sign and represents our mental space. The full moon lunar eclipse is in the sign of Leo which stands for leadership (they understand patience, persistence, and a good work ethic), loyalty, creativity, drama (of all kinds and this is the sign of the actor), and being generous or bighearted. Leo's are also known for a being a bit ego driven, so watch out this week for making whatever is going on, all about you. It's good to have a healthy ego that supports you and reminds you that you can do anything, but when that ego starts to tell you that you're above or better than everyone else and that everyone needs to cater to you, you may need to take a time out. Nobody enjoys a diva who looks down her nose at everyone, so don't be that snooty bia 🙂
So how can we use the energy of this week to help us? My advice is this: Where can you apply patience, persistence, and a good work ethic in your life (career or health maybe?)? How can you turn what you think is a terrible or difficult ending into a creative opportunity? The sign of Leo is asking us to manage our lives better and to be the leader we know we can be. The sign of Aquarius is asking us to reach out and connect with others on a wider scale while letting our rebel voices be heard. This week, embark on a new journey and trust that wherever you may land, is exactly where you're supposed to be <3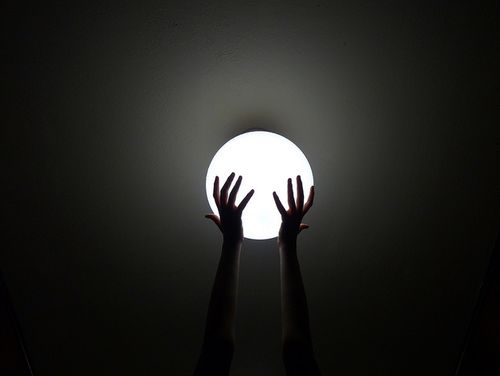 Think about drawing down the moon on the 10th/11th. The full moon is a time when relationships of all kinds are highlighted, including the one with yourself. It's also a time when projects started at the last new moon can be harvested or completed. Take stock right now of any imbalances in your partnerships and wrap up projects that need to move on to the next level. You can also set out a bowl of water at this full to soak up all the energy. You can use it later to scry in or use the water to nourish yourself with. If you like to do incantations, prayer or mediation at the full moon, this will add some pep to your step. I like this Pagan/Wiccan incantation I found that says, "Mother Goddess, lend me your light. Give me your power on this faithful night. I invoke you into my being and soul. Fill up my vessel, make me feel whole. I stand before you in awe and in love. I cherish your gifts you send from above. I ask you tonight to show unto me. My mother, my Goddess, So Mote It Be." Feel free to change this in any way you like or to make it your own, any way you see fit. Make sure to face the full moon and out stretch your arms so you can take everything in. Enjoy this powerful energy!
Go ahead and pick a card from above (pick one, two, or all three cards–pick what you're drawn to). The stone you see in the picture above is Lodolite Quartz. Lodolite is a type of included quartz crystal with inclusions of many possible colors and types, often having the look of gardens, landscapes, or underwater scenes. Thus, lodolite is often called garden quartz, landscape quartz, or scenic quartz. It's often used in meditation practices. Another metaphysical use of lodolite is to bring energies to effect manifestation of one's desires. Lodolite is also said to enhance communication with beings on the spiritual plane and heighten one's spiritual energies. It is used mystically to increase ESP and bring knowledge from your past lives. Lodolite is said to bring loving energies and energies of gentle strength. Mystically and in crystal healing, lodolite is purported to be an excellent healing stone bringing strong healing energies and energetic shifting so that healing will occur. Lodolite is associated primarily with the crown chakra. If you'd like to learn more about this stone, please go here. 
•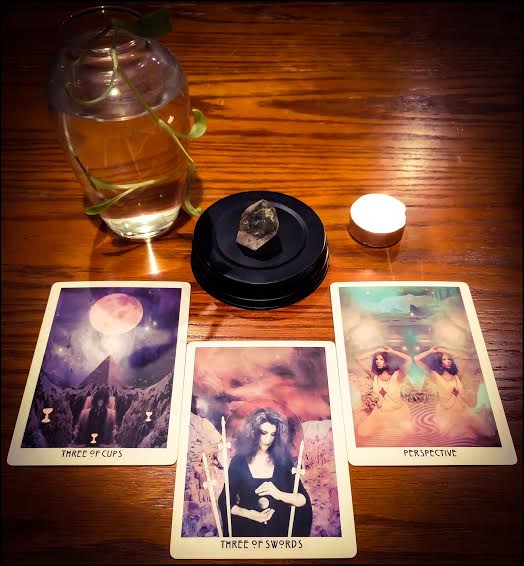 •
If you chose card #1: Your message this week is about the Three of Cups. Your card goes no to say that the Three of Cups indicates a time of celebration, friends, family, and home. It represents a period of spiritual and psychic growth as you learn to raise your own vibration. You surround yourself with the people you love, and together you create wonderful, blissful memories. If you have been over-exerting yourself in some way, now would be a good time to relax and take a break. Give yourself permission to explore your hobbies and creative interests. What future adventures lie just beyond the horizon? Additional Meanings: Abundance • Healing • Solace • Family • Birth • Study.
•
If you chose card #2: Your message this week is about the Three of Swords. Your card goes on to say that this is a more ominous card than most, The Three of Swords suggest that something has left you feeling hurt, betrayed, or rejected. Although the presence of these emotions may feel overwhelming, know that within every challenging situation, a greater lesson is presenting itself. Acknowledge, honor, and process your feelings, but not play victim to their circumstances. How we face adversity can have a lifelong effect on our happiness and consciousness if we choose to habitually focus on the negativity. Your innate strength and wisdom will emerge, as you realize your full potential to grow and learn from past mistakes or obstacles. You alone have the power to rise above the shadows and reach a higher state of being. Additional Meanings: Heartbreak • Obstacles • Redirection of negative forces • Sacrifice • Loss • Learning • Healing.
•
If you chose card #3: Your message this week is about Perspective. Your card goes on to say that it may be a good time to pause, take a deep breath, and review your plans. If you feel stuck, do not make any hasty decisions just yet. Sometimes looking at things from another angle or perspective can shift the energy of a challenging situation. It may be that you will need to let go of something or make some kind of sacrifice, which may initially leave you feeling vulnerable or scared. Know that despite the hardships, a more positive outcome will eventually prevail; you just need some time to review your plans. This is a transitional phase where you are able to recalibrate your beliefs, situation, or life goals. Take this time to meditate on your personal hopes and dreams. When one door closes, another always opens. Questions to ask yourself right now: What are my options at this time? Where do my true passions lie, and how am I honoring them? Additional Meanings: At a crossroads • Let It Go • Epiphanies • Patience • Surrender • Sacrifice • Introspection • Meditation.
•
My hope for you this week is that you can use your natural, latent talents you've been developing to bring yourself real results and lasting achievement. If you're hurting, use what you're going through to express yourself creatively! You might find that you have another avenue here that helps get your message out in a way that reaches a wider audience, and might end up helping someone else along the way.
This is your week! Make it an amazing one 🙂