10 Jan

The week ahead: January 9th through January 15th:
•
Yay!! Mercury Retrograde is over as of the 8th and now is the time to take action on what you'd like to accomplish and plant the seeds for growth towards the projects, ideas, and relationships most near and dear to you.
This may be an intensely emotional week, since we have a full moon in Cancer coming up on the 12th. Cancer's are a highly sensitive and emotional group of crabs, honoring safety, security, roots, family, and home above all things. Also being a water sign, Cancer's are very intuitive and empathetic, picking up on the environment around them. Since Cancer is all about the home, is also a water sign, and ruled by the moon which happens to stand for feminine energy, watch out for issues relating to your mother (mother's of any kind!) this week. It could be that you need to do some healing around that relationship, especially if there were any issues of abandonment. I'd like to offer you a different perspective if this is a story line of yours; if you had a mother that abandoned you (psychically or emotionally and this could also mean through death or abuse of some kind) this abandonment may have a been a catalyst for you to become fiercely independent, and I would suggest looking to see how you can become the person you needed so badly when you were younger or who you need right this very minute—this may even tie into or be a key element in unlocking what your vocation or calling is.
Full moons are a time when anything we've started at the last new moon can come to a completion or be tweaked, and also highlight the relationships that we have, making sure they are still a good fit for our needs. We're also still in Capricorn season, so the themes of methodical action, logic, foundation building, and stability are still being asked of us. So how can we use the energy of this week to help us? My advice is this: When a crazy, out of the blue, or terrible situation occurs, how can you "go with the flow" instead of fighting the current? How can you continue to build your dreams while maintaining a balance at home? I feel like this energy is really geared towards us continuing to build our dreams while incorporating our home into the mix or structuring our home so it can be our place of solace away from the rest of the crazy world. You could even be thinking about running a business out of your home! Start in on those renovation projects this week and make sure your home reflects who you are inside. Make sure to solidify and strengthen your bonds with your family too; when the going gets tough—and it will—your family is who steps up and supports you, (and that's not always blood) so make sure that you're supporting them too. This week, set down roots so you have a safe space in which to launch all of your beautiful ideas and projects. Pay attention to what you pick up on this week intuitively, too—your environment around you can serve as a mirror and a reflection of what's going on deep inside of you <3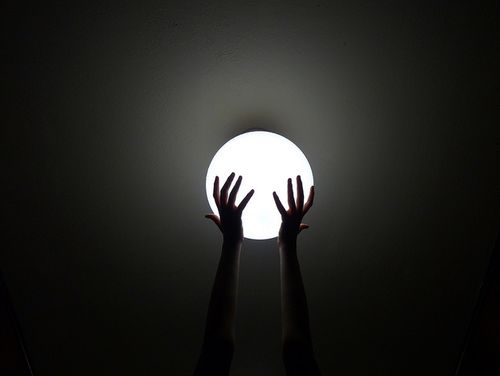 Think about drawing down the moon on the 12th. The full moon is a time when relationships of all kinds are highlighted, including the one with yourself. It's also a time when projects started at the last new moon can be harvested or completed. Take stock right now of any imbalances in your partnerships and wrap up projects that need to move on to the next level. You can also set out a bowl of water at this full to soak up all the energy. You can use it later to scry in or use the water to nourish yourself with. If you like to do incantations, prayer or mediation at the full moon, this will add some pep to your step. I like this Pagan/Wiccan incantation I found that says, "Mother Goddess, lend me your light. Give me your power on this faithful night. I invoke you into my being and soul. Fill up my vessel, make me feel whole. I stand before you in awe and in love. I cherish your gifts you send from above. I ask you tonight to show unto me. My mother, my Goddess, So Mote It Be." Feel free to change this in any way you like or to make it your own, any way you see fit. Make sure to face the full moon and out stretch your arms so you can take everything in. Enjoy this powerful energy!
Go ahead and pick a card from above (pick one, two, or all three cards–pick what you're drawn to). The stone you see in the picture above is Ammonite. The Ammonite is a very powerful earth healing fossil. Its spiral shape symbolizes continual change and evolution. Ammonites have absorbed cosmic energy over eons of time and help to stimulate the life force (Chi)  within. Ammonites are often used for activating Kundalini and life path energies. The Ammonite is also often recommended to put in the home to attract health, prosperity and success. The Ammonite draws off all negative energies. Think of the Ammonite spirals as a filter, drawing in these dense energies which are no longer needed, moving them through the spirals and releasing them as fresh, positive, loving life force energies. Physically, Ammonites can help to increase stamina and vitality. Use Ammonites when working with issues of blood pressure or problems with the ears, lungs and degenerative disorders. Ammonites will also help to lift the heaviness that is sometimes felt during depression. If you'd like to learn more about this stone, please go here. 
•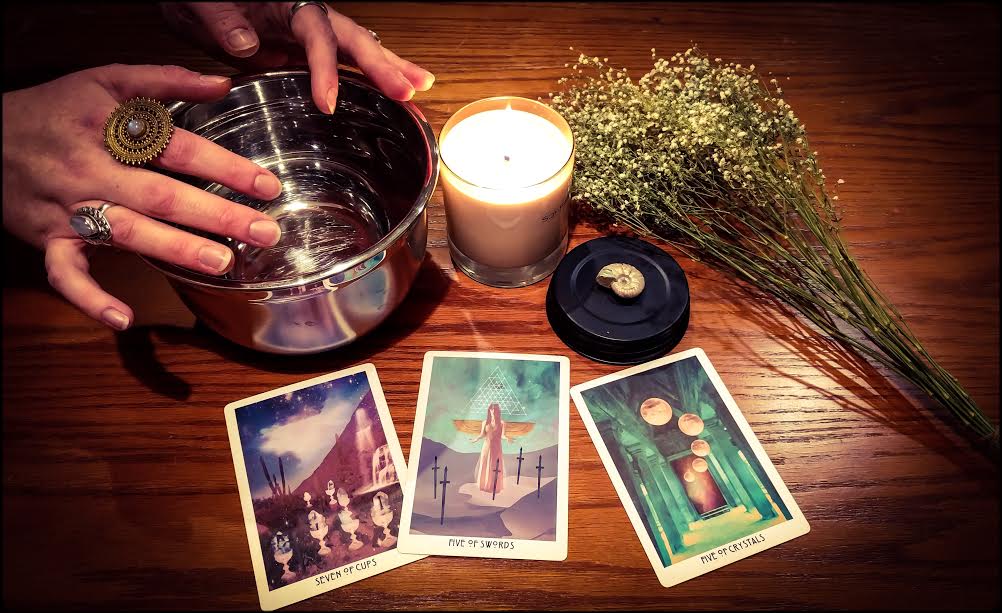 •
If you chose card #1: Your message this week is about the Seven of Cups. Your card goes on to say that the Seven of Cups is a card of choice and temptation. If you have been over indulging in thoughts of fantasy or illusion in regards to your life, now would be a good time to ground yourself and make a concrete plan. What route are you going to take, in order to move forward with clarity and success? How are you going to share your talents and skills with the world? Overcome your fears and make a loving commitment to yourself. Additional Meanings: Wishful thinking • Daydreaming • Unrealistic expectations or thoughts • Temptations • Options.
•
If you chose card #2: Your message this week is about the Five of Swords. Your card goes on to say that the Five of Swords indicates a state of entrapment and negativity that has been self-inflicted. Through conflict, disagreements, or impulsive behavior, there has been an involuntary burdening of yourself or others. It is important to step back and take a look at the bigger picture. Put everything into perspective and realize where your true priorities and truths lie. Are your opinions and views more important than your relationships? How are you affecting other people? Is your ambition coming from a place of Love, or fear? How can your words and actions transform this difficult situation? Additional Meanings: Defeat • Loss • Disillusionment • Gossip • Mistrust • Selfishness • Ego.
•
If you chose card #3: Your message this week is about the Five of Crystals. Your card goes on to say that this is about a sense of worry or loss in your life. This could indicate an actual state of illness, lack of finances, or a feeling of rejection. Know that despite the hardships you are experiencing, there is still hope and support available to you. You have the power to come out of the situation in a new and positive light. Do not lose faith in yourself and the Love and abundance of the Universe, as there is always opportunity ahead. It might also be a good time to check your emotions; how are you manifesting your energy? Are you projecting your fears into reality? Additional Meanings: Worry • Over speculation • Loss • Manifestation.
•
My hope for you this week is that you focus some good, healing energy on your home—both your physical house and your mental home too. Depression can wreak havoc in your life if you don't get the help you deserve, so please see a therapist or talk to a trusted friend to help you through. Honor those that you love as well and that you consider your family. Building a strong and fortified structure with the ones you love in a space that brings you peace will give you the courage and the strength to do anything that your heart desires.
This is your week! Make it an amazing one 🙂