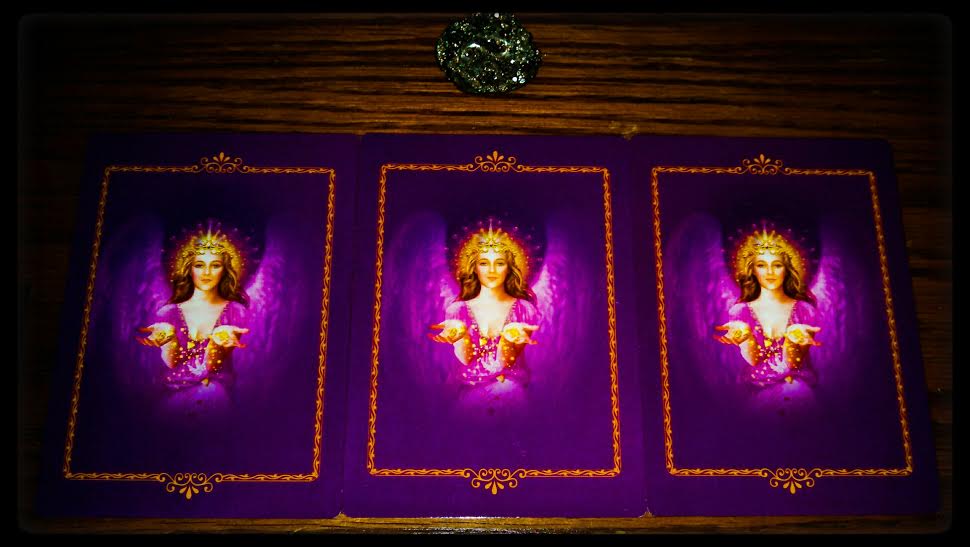 18 Nov

The week ahead: November 17th through November 23rd: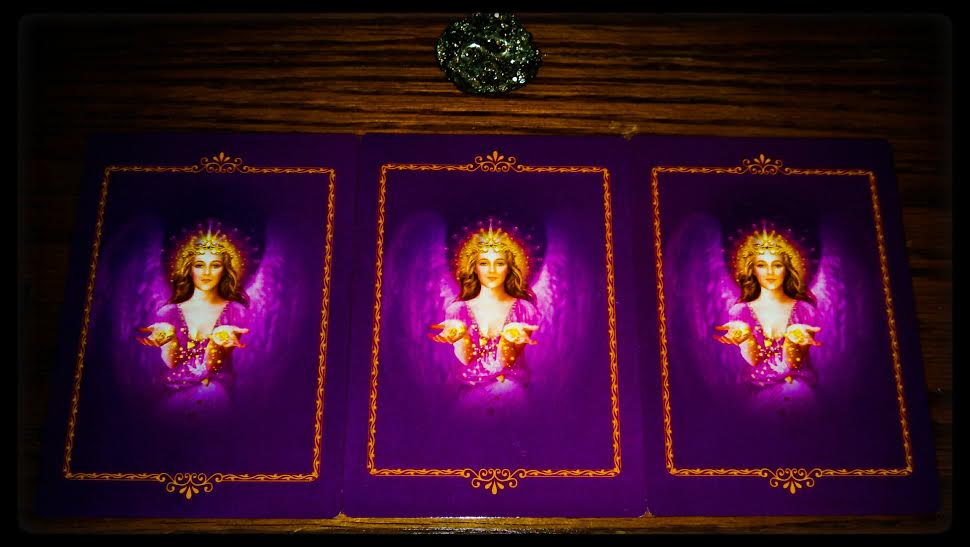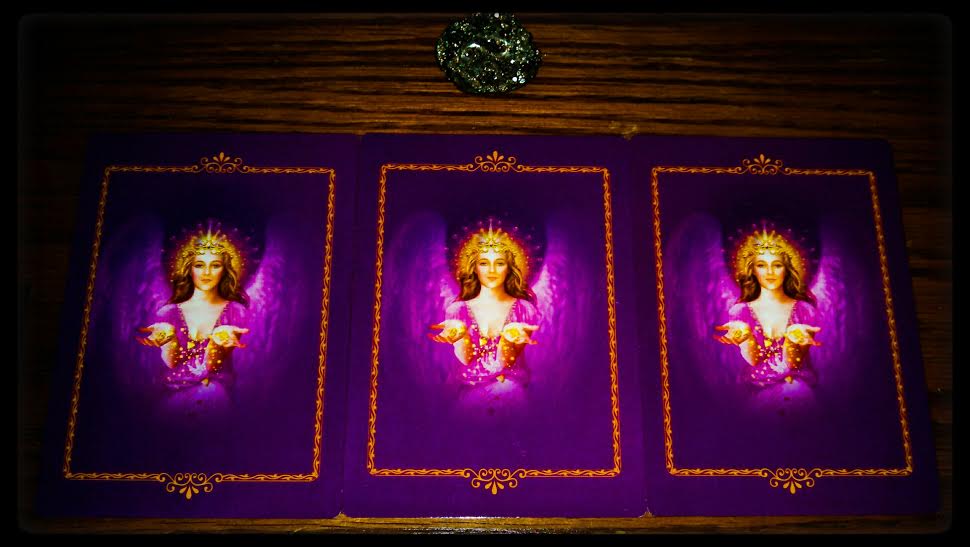 •
The new moon is approaching on November 22nd, entering into the sign of Sagittarius. This new moon may be bringing you some much needed adventure, so keep your eyes peeled and ears open for any chance to act upon this aspect. Where would you like to go? What would you like to do? Ask and you shall receive, so let the Universe know what kind of adventure you're looking for. I post an awesome article on my Facebook page about each new and full moon phase, so please feel free to follow if you'd like more insight on Saturday.
I feel like everyone's been a bit cranky lately, and if you've been feeling that way too, just take your time this week. Allow the natural ebb and flow of your emotions to take place and it will be over soon–I promise. With all the change we've been going through, it's no wonder people are hinging on their last nerve. It surely doesn't help that Christmas is right around the corner either, and I'm sure you're not done shopping yet (neither am I!). Take a deep breath, remind yourself not to take anything personal, and remember that you control your emotions. Don't allow others to take the joy from this beautiful time of year that we give thanks for the people and situations we hold most dear. Stay grounded and alert, and you'll be just fine. I like to yell, "Plot Twist!" if someone cuts me off while driving, or says something rude. It makes me laugh and reminds me that my plans don't always go accordingly; and that's alright. Do I always say that? Umm, no…sometimes I like choosing others words for those "special" individuals, but then I realize how that makes me feel, and it doesn't feel good. We're always picking and choosing. Pick the emotions and people you want to be aligned with this season, and the joy you've been looking for will be everywhere you turn.
Go ahead and pick a card from above. The cards are numbered form left t right; 1, 2, 3. The stone you see in the picture above is pyrite. Pyrite is a protective, shielding stone and is excellent to wear or carry as an amulet to deflect harm and danger. It is especially helpful when one is away from home or performing hazardous work. Pyrite guards against ongoing control, criticism and manipulation by a partner, parent or employer, lending the power to resist without becoming angry or upset, changing the balance of power. A piece of Pyrite in the home or workplace energizes the area around it and imparts an immediate increase in vitality. It overcomes intellectual fatigue due to overwork and tiredness of the nervous system by stimulating blood flow to the brain, increasing mental clarity, focus and recall. Pyrite inspires creativity in art, mathematics, science, architecture and many disciplines, especially those that recognize the inherent perfection and harmonious symmetry of nature and the universe. It stirs the qualities of ambition, commitment and perseverance, and is an ideal stone for students. In the workplace, Pyrite encourages leadership qualities and is an ally for managers and those working toward promotion. Pyrite enhances the protective and assertive male energies in both men and women. It boosts women's self-worth and helps overcome tendencies toward servitude and inferiority. For men, it instills a feeling of confidence in one's masculinity and supports the enthusiastic expression of male eroticism.
•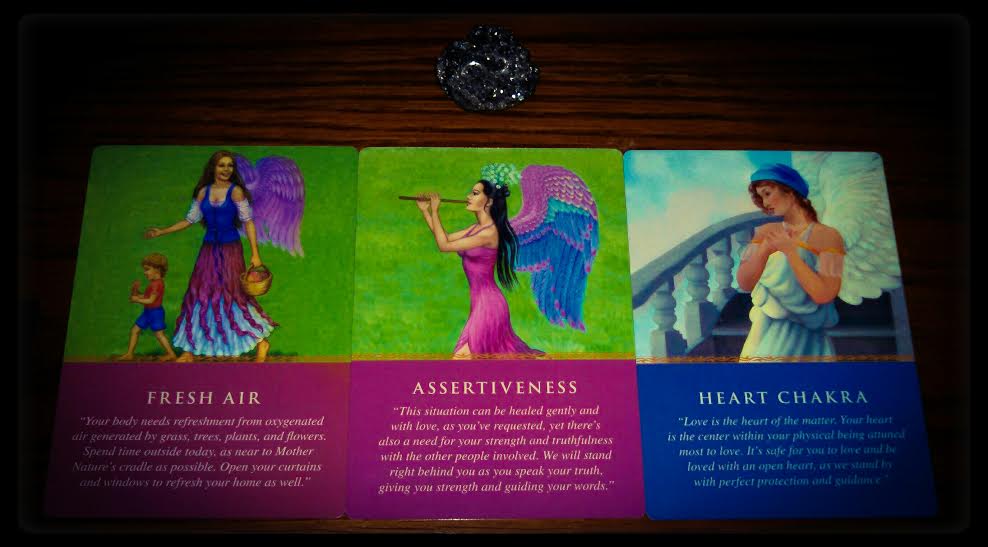 •
If you chose card #1: Your message this week is about getting fresh air. Your card goes on to say that the angels sent this card to you because you need some fresh air. You've been indoors far too long, and your body and soul crave oxygen. Open the windows in your home and office to air them out, then go outside yourself and breathe deeply. If you live in the city, make an escape to the country as soon as possible to breathe some much-needed fresh air. Keep plenty of live plants in your home and office to ensure the steady circulation of oxygen. Additional Meanings: Exercise outdoors • Get some sunshine, or travel to a sunny environment • Spend time around trees or plants • Reconnect with nature • Bring some "fresh air" into a stale situation or relationship.
•
If you chose card #2: Your message this week is about assertiveness. Your card goes on to say that you drew this card because you were asking about a situation where you felt victimized. The angels are saying that the situation can only be rectified if you clearly communicate your needs and expectations to others. It's possible to be both angelic ad assertive if you call upon the angels for courage and guidance whenever you intend to speak your truth. With practice, loving assertiveness becomes easier. Additional Meanings: Face the situation directly • Read a book or take a class on assertiveness training • Replace aggressive or passive-aggressive behavior with assertiveness • Handle conflict with honesty and love • Tell the truth to yourself and others • This situation is an opportunity for personal and spiritual growth.
•
If you chose card #3: Your message this week is about your heart chakra. Your card goes on to say that the angels gave you this card because the answer to your question rests within your heart. The more that you open your heart, the more love, joy, and peace you'll feel. You can open your heart chakra by asking the angels to send their healing energy, by visualizing your heart surrounded by pink light, by inhaling the fragrance of pink roses, by holding or wearing rose quartz crystal, and by focusing on love. Additional Meanings: Send light and love to your heart chakra • Take very good care of your cardiovascular health through exercise and healthy eating • A departed loved one who passed on from a heart condition is saying "Hello, I love you." • Have a heart-to-heart discussion.
•
My hope for you this week is that you allow joy to resurface in your everyday living. No one can take away your feelings unless you let them; so stand up for what you want! Remember that you have control over the way you respond. Consciously work towards aligning yourself with who and what you want in your life, and you'll start to see just how powerful a creator you are.
This is your week! Make it an amazing one 🙂