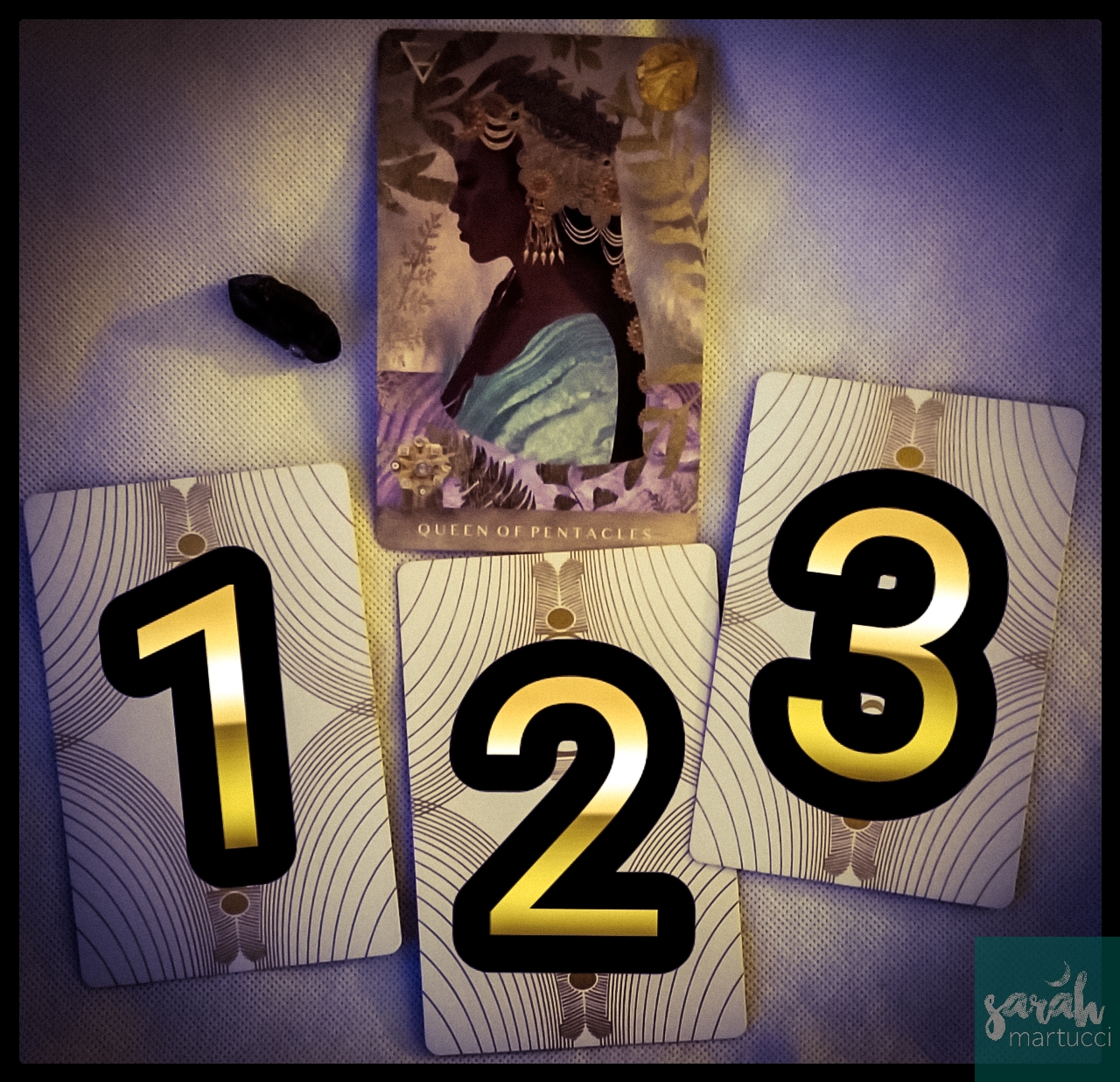 03 Dec

The week ahead: December 2nd through December 8th of 2019: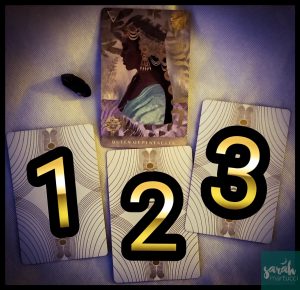 •
We're sailing along Sagittarius season now, but things may not feel as buoyant as they normally do during this time of year, due to Jupiter moving out of it's home sign of Sagittarius and into more down-to-business Capricorn.  Honestly though, it's time to get shit done, and if you're anything like me, you put off the big stuff until the 11th hour and then struggle to get your ducks in a row. That kind of behavior isn't gonna fly in the house the Capricorn resides in for you for the next year, so know that looking at your life and seeing where you can streamline, become more efficient and serious, will get you ahead of the game.
Capricorn rules my 6th house of daily routine, health, and work, so a big focus for me going into the Christmas season and 2020 will be to get my health back on track and make sure my day to day routines are supporting the work most important to me. As of right now, I've already started a diet to get healthier, I've done a total body work up with every medical professional I needed to see, and I'm currently working on setting up a daily routine that hopefully offers me more time to work on my craft, get daily chores done, while still being able to spend time with my sweet baby Leo.
All of this structure can feel a bit overwhelming, but in the long run, this is what pays off. While Sagittarius season may want to run away from responsibility, it'll be up to you to remind that part of yourself that would rather be doing anything else than focusing, that repeated effort towards whatever goal you're trying to reach, will win the day and the future.
So how can we use the energy of this week to help us? My advice is this: How has your "big picture" changed and how can you meet this goal in a new space supported by daily effort? What are your hope, faith, and vision saying you have to do? What areas of your life could use more structure, and what daily actions can help you establish this? This week, buckle down and establish a routine that supports your growth💖
Go ahead and pick a card from above (pick one, two, or all three cards–choose what you're drawn to). The top card is the overarching theme for everyone and it's something to keep in mind or to remember, no matter what energy shows up for you as the week goes on. The stone you see in the picture above is smoky quartz. An extraordinary amulet of protection, Smoky Quartz helps guard the home, vehicles and possessions against theft, damage and accidents caused by human error. Keep one in a purse, a bag in the glove box or near valuables, especially if left unattended for long periods of time. As a driving crystal, Smoky Quartz protects against road rage and other harm while driving on motorways, on long journeys or in heavy traffic by reducing stress and increasing concentration. It also shields against unexpected mechanical breakdowns. Place Smoky Quartz in the home or work environment to filter out bad moods, unspoken resentments, or disparaging remarks that drain one's strength and enthusiasm. To shield against hostility or gossip in the workplace, or a bullying boss or manager, set dark Smoky Quartz points outwards on your desk in a semi-circle to create a calm, safe area in which to work. Wear or carry Smoky Quartz to enhance survival instincts, and for assistance in reaching personal and business goals, as well as manifesting dreams and ideas into reality. This crystal promotes rational, pragmatic thought processes and improves calculation and organization. It increases focus and may be used in group situations to alleviate communication difficulties and foster a spirit of cooperation. Smoky Quartz is a remarkable aid for quitting smoking, gradually reducing the urge to smoke, as well as softening the anger and agitation associated with nicotine withdrawal and the detoxification process. If you'd like to learn more about this tone, please go here. 
•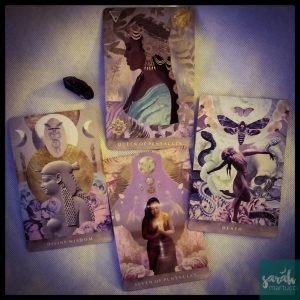 •
Overarching theme: Queen of Pentacles: The Queen of Pentacles is a down-to-earth, nurturing individual who works hard at what they do. You will often find them balancing multiple commitments and responsibilities, while also extending care to friends and family. There is a deep wisdom that surges through the heart and soul of this person, as they have learned to prioritize what is truly meaningful in life–that stability of the spirit is what matters most, through foundational support that provides security and comfort. The Queen of Pentacles may very well reflect the attainment of success and financial goals, but in a heartfelt way that bridges beyond physical affluence. This key prompts us to consider how we can reach a higher state of awareness when it comes to building our vision of what success and comfort genuinely mean to us. How can we tap into our own strength, and design the life we have always dreamed of? Questions to ask yourself this week: How can I nurture my talents and skills? How can I maintain a greater sense of balance? Your mantra this week: My success supports my heart. I seek true richness of the soul. Additional Meanings: Nurturing • Cautious • Fertility • Earth mother • Pragmatic.
•
If you chose card #: Your message about this week is Divine Wisdom. Your card goes on to say that the floodgates are beginning to open, as the seated wisdom of the ancient mysteries are now pouring through. This is the Divine knowledge that exists within your cellular memory and the power of your own unique story. You may be experiencing a breakdown of the artificial structures that wish to fall by the wayside, as new forms of wisdom stir within your heart. This may also indicate a deeper sense of awakening, as you connect with various forms of teachings, lineages, or philosophies that call out from beyond this lifetime. Divine wisdom comes as a sacred reminder of the sovereign truth that rests within you, waiting to be reclaimed and activated now. Depicted in this key is the representation of Isis, the lunar goddess of 10000 names, we are reminded of the cycles of time that have birthed many sages, mystics, and ascended guides who have also led our collective narrative of magic and mystery. Within the centuries and millennia, their ancient wisdom has been transcribed and passed on through preservation and memory, and still today, we hear the echo of that voice. It lives on within you–in your dreams, in your heart, and throughout the journeys you have taken during countless incarnations. Questions to ask yourself this week: How is the universe expressing its wisdom to me? What new forms of knowledge am I now cultivating? Additional Meanings: Akasha • Awakening • Higher Self • Unity • Expansion.
•
If you chose card #2: Your message this week is about the Seven of Pentacles. Your card goes on to say that the Seven of Pentacles is a card of hard-earned rewards and the refinement of your deepest purpose. After all of your work and perseverance, you are able to gauge how you would like to invest your time and energy, as you realize the importance of the momentum of your success. If you feel as though you have yet to reap the rewards, now is not the time to give up! Perhaps you've learned more than you thought possible along the way and have shifted your priorities unexpectedly. It could simply be a matter of gaining a new perspective and envisioning your path from a more spiritual fulfilling position. Personal affluence and success may only take you so far, but if you source your work from the seat of your soul, your creations will not only be sustainable and authentic, they will raise the vibration of the collective whole. Questions to ask yourself right now: Am I ready to create and invent from within my soul? How can I bask in the light that surrounds me? Your mantra: I ease back into the flow of my heart. I relish and treasure the gifts each day. Additional Meanings: Visions • Intuition • Spiritual truth • Profit • Reward.
•
If you chose card #3: Your message this week is about Death. Your card goes on to say that this powerful card shares a profound initiation into an entirely new state of consciousness, when major shifts begin to stir within your heart or soul. When you hit rock bottom, end a relationship, decide to quit your job, or want a fresh start–this revaluation of old patterns or beliefs may force you to eliminate distractions you have been experiencing thus far. As the old paradigms dissolve into the background, new spaces within and around you begin to unfold. These raw turning points often mark the deepest pathways which emerged from the depths of our spirit, allowing our priorities to become crystal clear once everything else has been stripped away. How have you grown, and what would you like to cultivate next? Where would you like to go from here? Questions to ask yourself right now: What is coming to an end, in order to begin? What is shedding, breaking, shifting, rising? Additional Meanings: Transformation • Birth • Metamorphosis • Transition.
This is your week! Make it an amazing one 😊