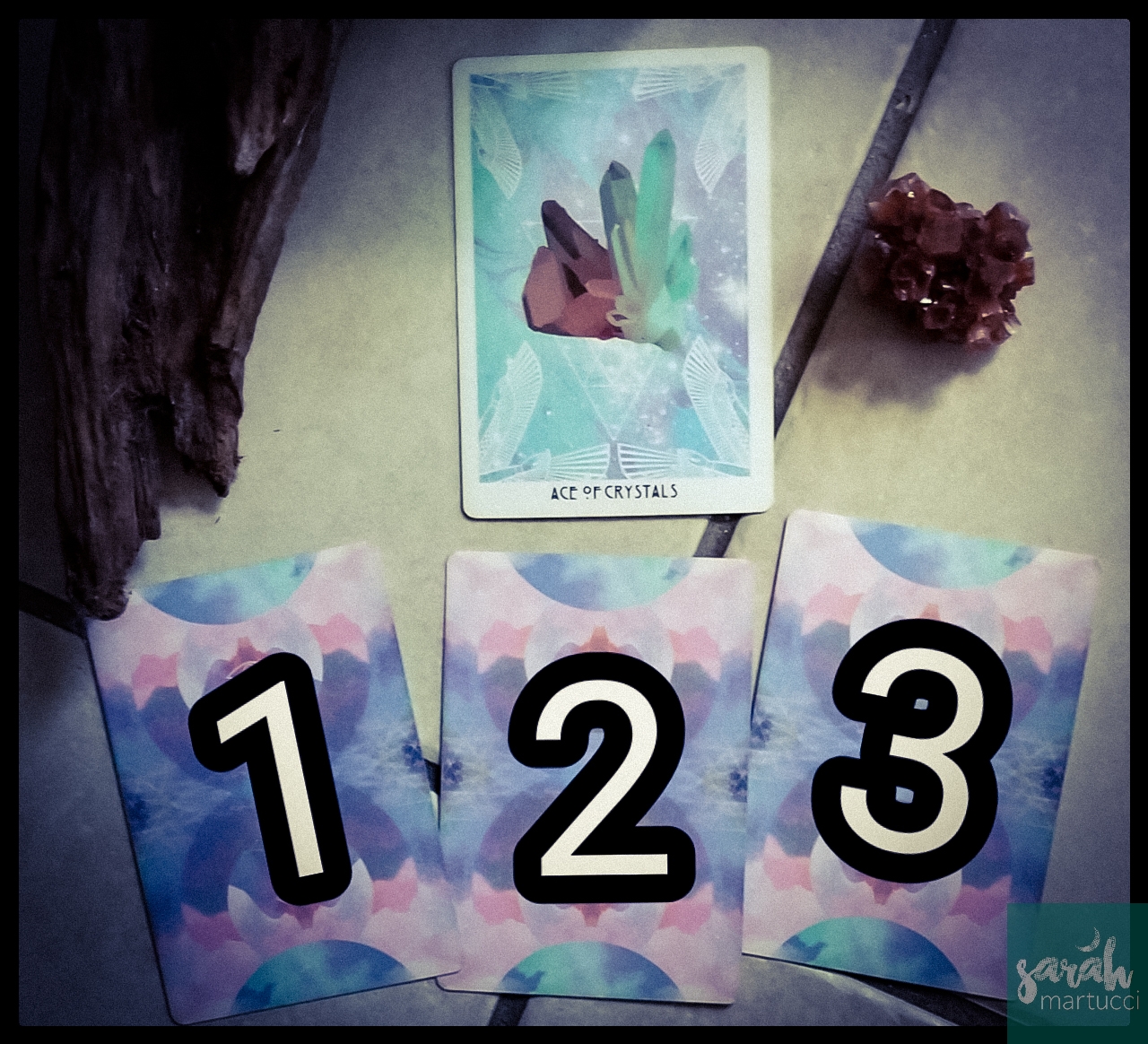 13 Aug

The week ahead: August 12th through August 18th of 2019: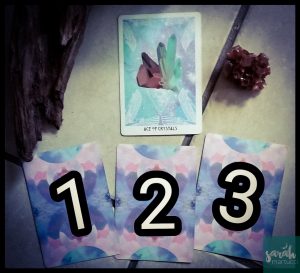 •
•
Still in the midst of Leo season, we're ready to have some fun and adventure with our heart leading the way. The better half of this summer has been difficult with all the planets and Chiron in retrograde, including Jupiter, the very planet known for good luck and fun. Now that he's direct, we should be feeling a bit more free and ready for whatever comes our way, confident that we've got this or at least faith is leading the way.
Taking Jupiter's place, Uranus stations retrograde on the 12th in the sign of Taurus. Expect things to get weird, especially having to do with themes around your worth. You may find right now that what you want to do with your life or what gives you meaning, is changing. It could be that you need to have more freedom to do what you want, it could be as simple as you realizing you're not as boring as you believed, or more importantly, you're accepting your inner weirdo. Different urges for change in big ways, wanting to restructure old/outworn patterns or paradigms, and generally getting out of a rut, are gonna be new measurements for growth. There's a certain radical, extreme, or wild feel to the energy of this retrograde, so take it step by step as you process what comes up for you. That big picture is meant to be reached in time, not immediately; Taurus reminds us that slow but steady wins the race, so pump the brakes, turbo. Following the beat of your own drum is magic right now too, so if you don't know what that sounds like, please tune in to your body and pay attention.
Finally on the 15th, we have a full moon in the sign of Aquarius, amping up the strangeness that abounds right now. Aquarius is ruled by Uranus and is known for being a bit aloof, but it doesn't take away from their big hearts and making sure their community as a whole is taken care of. They're more focused on the group effort than one on one, and find their happiness and sense of belonging from being the odd one out, understanding that everyone has a role to play and the only way they can do that, is through their own uniqueness. These guys are the liberators and free thinkers of the zodiac, and if being weird is a gift, then these guys are pros. You might also find that you're more concerned with your group right now, making sure everyone has what they need or that justice is being served for everyone involved. Since Aquarius is an air sign and rules our friendships, communication will be key, so you might be gathering info and researching whatever new discovery you uncover, sharing what you find with your people, or possibly just ready to party and have a good time with your friend group, communicating your happiness of being surrounded by those you care about, overdue for taking a break from the drudgery of the eclipse season. You might also be focused on allowing some new, different side of you to emerge and see the light of day, not caring anymore what others think of you. Aquarius reminds us that if we were all the same, this world would be a boring, boring place.
So how can we use the energy of this week to help us? My advice is this: In what ways can you add more fun and adventure into your life? What have your needs, wants, and goals been telling you lately, and are you listening to what your inner weirdo is telling you and doing something about it? Are you celebrating what makes you special and unique? This week, trust your wildness and follow the call of your freedom. Wave that freak flag high.
Go ahead and pick a card from above (pick one, two, or all three cards–choose what you're drawn to). The top card is the overarching theme for everyone. The stone you see in the picture above is aragonite. Aragonite is a wonderful Earth healer, and encourages conservation of Earth's precious resources. Use Aragonite when working with the Root and Earth Star Chakras, and for grounding and connecting to the Earth. Aragonite can also be used for clearing blockages of energy in ley lines and for healing geopathic stress. Aragonite acts as a stabilizing stone, and can be helpful for those who have focused solely on spiritual pursuits to the exclusion of other necessary tasks. Aragonite assists those who need to release issues from the past as well as attachments in the present. Aragonite promotes focus and concentration, and can be helpful for students. Meditating with Aragonite can help to ground spiritual growth into the lower chakras, raising the overall vibration of the body. Many crystal lovers enjoy Aragonite's centering energies, and work with it to help bring peace and serenity to volatile situations. If you'd like to learn more about this stone, please go here.
•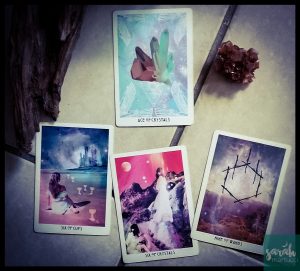 •
Overarching theme for the week: Ace of Crystals: The Ace of Crystals signifies a new and prosperous beginning. It is the fruition of wealth and abundance, and the attainment of your dreams. You're capable of manifesting your goals into reality, and also appreciate the payoff of your success. From this state of understanding, comes the ability to identify opportunities as they arise, and those routes that align best with your spirituality. It speaks of your innate trust in your heart and Higher Self. Remember, the power of positive visualization combined with a sense of gratitude will only attract more abundance into your life. Additional Meanings: Prosperity • Stability • Possessions • Opportunities • New ventures • Fertility.
•
If you chose card #1: Your message this week is about the Six of Cups. Your card goes on to say that the Six of Cups reminds us of those moments of nostalgia and dreams. Similar to the way a certain smell or feeling can transport us to another time and place, this card speaks of the world of our minds and hearts. Deep emotions are rooted within these memories, so it is important that you acknowledge them, whether they are pleasant or not. Why are these feelings resurfacing? What can you learn from your past? Are you ready to do some healing? As we are living records of every thought and feeling we have experienced throughout our lifetimes, it is important to remember the inner child that still exists within you now. Additional Meanings: Karmic connections • Love • Children • Reconnection • Akashic records.
•
If you chose card #2: Your message this week is about the Six of Crystals. Your card goes on to say that the Six of Crystals indicates a state of balance and abundance in your life. You recognize the value of your relationships, spirituality, and the mutual benefit of loving support for others. This is also a time for inner growth and prosperity. You have risen to the occasion and can now look back on the choices you have made that have led to your state of knowing–how will you move up from here? Opportunities, gifts, or rewards may be closer than you think. Additional Meanings: New opportunities • Career • Philanthropy • Generosity • Prosperity • Advancements • Growth • Abundance.
•
If you chose card #3: Your message this week is about the Nine of Wands. Your card goes on to say that your hard work and efforts are close to a state of completion. You have the inner strength, wisdom and perseverance to move forward, but a minor setback or obstacle may suddenly surface. Know that you are incredibly close, therefore, it is important that you not falter. Believe in yourself and your innate ability to achieve success. After this last challenge, you will know what you were truly made of. Additional Meanings: Courage • Strength • Stability • Stamina • Performance.
This is your week! Make it an amazing one 🙂