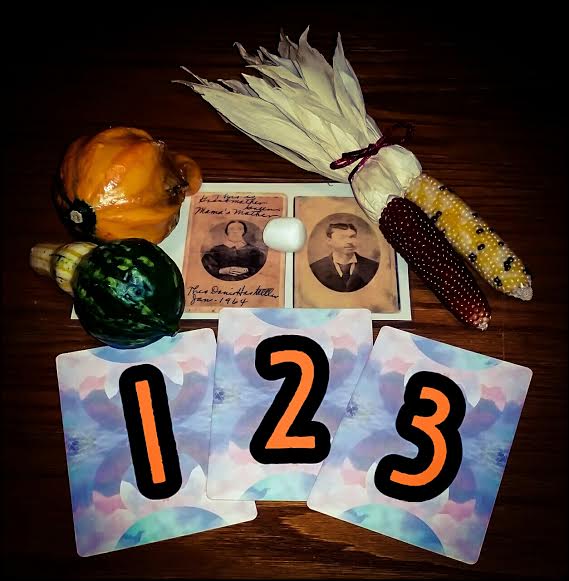 31 Oct

The week ahead: October 31st through November 6th: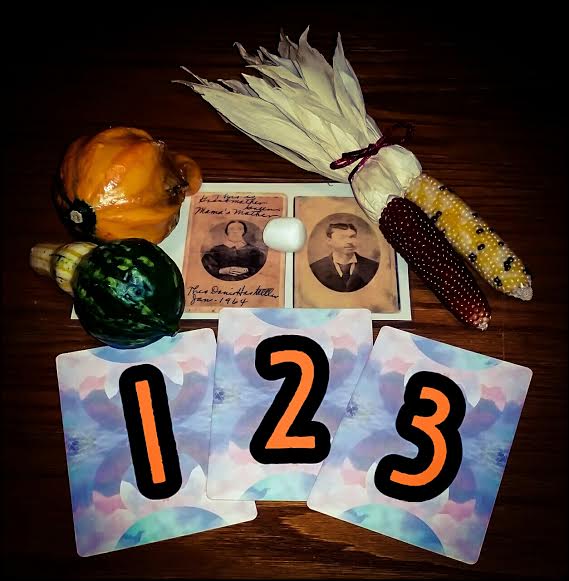 •
Happy Halloween/Samhain, Lovelies! This is hands down my favorite holiday of the year, marking the end of summer and harvest season and the beginning of a spiritual new year for all those observing Samhain. Samhain is known for honoring the dead and the ancestors that came before us, and since we're still in Scorpio season, the themes of birth, death, rebirth, and sexuality are still playing out in mysterious ways, asking us to pay attention to what's going on around and within, ripe for change and if totally open to it, powerful transformation. Both Halloween and Samhain declare that the veil that separates this world from the next is thinnest at this time of year, so now would be a great time to call upon those you've lost and be open to the messages that come through for you. So how can we use this energy to help us this week? My advice is this: Do something this evening or this week to honor your ancestors that came before you, and ask for their help in re-birthing yourself, healing any family karma, or helping you to release what no longer is working for you. You can build a little alter or a sacred space and place out photos and mementos of your loved ones, animals, and friends that are in Spirit. Add some candles and as your lighting them, call each of your loved ones by name and invite them into your space. Thank them for being a part of your life and recall what each person/pet has taught you. Ask them for help with whatever you need and give them permission to work on your behalf. Try to sit or lay quietly afterward and pay attention to what you experience. Notice any messages, feelings, or images you may receive and try to write these down as something to reflect upon going forward or just to remind yourself how much support and love you have coming from the Spirit world. Now is the time to know that you're never alone and that you always have assistance, if you just ask for it. This week, honor your loved ones in Spirit and know that as you're honoring them, you're also honoring the love that brought you into this world.
Go ahead and pick a card from above (pick one, two or all three cards–pick what you're drawn to). The stone you see int he picture above is scolecite. Scolecite is one of the high vibration crystals, and is a strong stone to aid communication, especially with spirit, and has a strong resonance within the chakras from the heart up. It is a stone that awakens the heart, and facilitates deep inner peace and spiritual transformation. Once you have used it you will appreciate the wonderful gifts that it brings into your life. This lovely crystal helps you to bring the things that you desire into your life, as it helps you to take control of your life. It is wonderful crystal to aid you to feel calmer and more relaxed, and having a tumble stone under your pillow is very beneficial to aid restful sleep. If you'd like to learn more about this stone, please go here.
•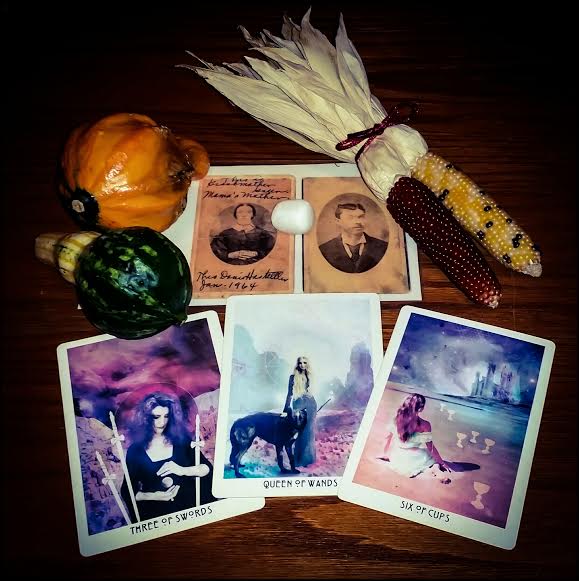 •
If you chose card #1: Your message this week is about the Three of Swords. Your card goes on to say that this is a more ominous card than most, The Three of Swords suggest that something has left you feeling hurt, betrayed, or rejected. Although the presence of these emotions may feel overwhelming, know that within every challenging situation, a greater lesson is presenting itself. Acknowledge, honor, and process your feelings, but not play victim to their circumstances. How we face adversity can have a lifelong effect on our happiness and consciousness if we choose to habitually focus on the negativity. Your innate strength and wisdom will emerge, as you realize your full potential to grow and learn from past mistakes or obstacles. You alone have the power to rise above the shadows and reach a higher state of being. Additional Meanings: Heartbreak • Obstacles • Redirection of negative forces • Sacrifice • Loss • Learning • Healing.
•
If you chose card #2: Your message this week is about the Queen of Wands. Your card goes on to say that if this is about a situation: It is important that you acknowledge your limitless potential! You're capable of accomplishing anything you wish if you truly put your mind to the task. Maintaining a positive mindset attracts an abundance of light into your life–this is the first step in manifesting your dreams. If this is about a person: The Queen of Wands is an extremely generous person who is both strong-willed and fierce in their convictions. They easily attract others to them through their passionate and charming personalities. They are very aware of their surroundings and are highly intelligent individuals. The Queen of Wands is also extremely independent and outgoing. They are able to adapt well in almost any social setting or environment, and make others feel warm and welcome. An honest, kind-hearted person who radiates beauty. Additional Meanings: Authoritative • Spiritual • Practical • Independent • Charismatic.
•
If you chose card #3: Your message this week is about the Six of Cups. Your card goes on to say that the Six of Cups reminds us of those moments of nostalgia and dreams. Similar to the way a certain smell or feeling can transport us to another time and place, this card speaks of the world of our minds and hearts. Deep emotions are rooted within these memories, so it is important that you acknowledge them, whether they are pleasant or not. Why are these feelings resurfacing? What can you learn from your past? Are you ready to do some healing? As we are living records of every thought and feeling we have experienced throughout our lifetimes, it is important to remember the inner child that still exists within you now. Additional Meanings: Karmic connections • Love • Children • Reconnection • Akashic records.
•
My hope for you this week is that you can honor all those who've come before you and anyone that you've lost. By connecting with your ancestors and giving thanks to those you've loved (and even to those you had a difficult time with) in this life, you reconnect with all parts of you and allow those relationships to continue, just in a different way. By asking for assistance to accomplish your goals, you give them permission to continually send you love and assistance—and who can't use that? 🙂 Get quite this evening and open yourself up to all the adoration and transformation coming your way; you're gearing up for a big month ahead!
This is your week! Make it an amazing one 🙂